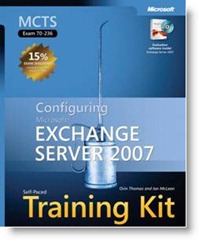 I'm strongly urging my clients running Small Business Server to move their mailboxes to online hosted Exchange servers. I'll give you a bit of background and tell you an anecdote to explain why Exchange frightens me, then tell you more about Microsoft Online Services next week.
Microsoft released the first version of Small Business Server in 2000. It was updated in 2003 and 2008, and a new version is planned for next year. It is a customized collection of several Microsoft server products, bundled up to be installed on a single server. The products are the same as the enterprise versions – with some simplified management consoles and controls (and a limit on the number of users), but otherwise identical to the full products. Small Business Server includes:
Windows Server – domain controller for authenticating users and handling file sharing, printer sharing, and security
Microsoft Exchange Server – mail server
Internet Information Services – web server
Additional components at different times and in different versions – Windows Server Update Services for update management, SQL Server for databases, Sharepoint Services for collaboration, and more.
For years Small Business Server was a compelling choice for small businesses with 25 employees or less. (SBS can support up to 75 people but it's easy to outgrow it when there are more than 25 users.) There were no good alternatives for small businesses ready to step up from simple peer-to-peer networks. I worked with many companies that built their businesses on SBS 2003.
A mail server is essentially a specialized database. Exchange Server has been built to be a particularly robust database with an extraordinary number of failsafe mechanisms to make sure data is never lost. The same Exchange Server technology runs small businesses with fifteen employees and Fortune 500 companies with 64 million employees, or whatever they have these days. When Exchange Server is set up in a small business with fifteen or twenty mailboxes, it is under an absurdly small load compared to what it is designed to handle. It is very stable and runs trouble-free nearly all the time.
When Exchange Server breaks, it is a monster to fix.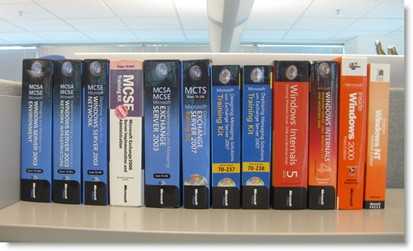 Lots of people make a nice living doing nothing but working with Exchange, all day, every day. Every big company running Exchange has IT staff whose only responsibility is to keep it running. This Microsoft engineer took a picture of the books that he uses to support Exchange Server. These are just the books from one publisher, Microsoft Press! There are hundreds of books from other publishers, and untold tens of thousands of KB articles and white papers and other technical resources. People are certified as Exchange specialists of various types after intensive classes. It is a highly complex, difficult world unto itself.
I have been involved in five incidents where Exchange has needed to be fixed. On two of those occasions I tried to work on it myself before getting outside help. (I have my own Exchange books and a modest amount of knowledge about it.) On one occasion I spent many hours trying to recover lost data in public folders, then advised the client not to pursue it further. On two occasions I immediately reached out for help.
As a Microsoft Partner I can get enterprise level support from Microsoft in certain situations, including when an Exchange Server goes down. It is a remarkable experience! After a threshold call to establish my credentials and the nature of the problem, an Exchange engineer steps in, usually from India. Put your stereotypes aside! In my experience these are serious engineers who speak flawless English, are very highly trained, and do nothing but solve Exchange problems every day. They are prepared to stay on the phone for as long as it takes to fix the problem. Nobody goes to bed, nobody gives up – these guys are thorough and determined.
It takes hours. Hours and hours and hours.
Last week a hard drive failed in a client's Small Business Server. It was not the primary drive with the OS; it had the Exchange database on it but not the transaction logs. Backups were being done with an Exchange-aware copy of Storagecraft ShadowProtect, so I was able to restore an image of the drive relatively quickly.
The Exchange Information Store would not mount. I tried some things, then called for help.
This was a relatively simple problem. It was a small database. We had the data, I just needed help to clean it up and get it ready so the database could be mounted successfully.
During the next three hours, we ran dozens of commands in a command prompt window, culminating in one monster that took three lines on the screen when we typed it in, before I hit the Enter key. Success! But success at a cost: hundreds of dollars for my time spent on the problem, and the risk that there would be some problem and the Exchange database would turn out to be fatally damaged. It would be even worse if we were also paying Microsoft or a specialized Exchange consultant for support.
That was the best case scenario – problem solved in only three hours (plus a couple more hours cleaning things up on the workstations) because it was a small database with no corrupt data to repair and a good backup. On another occasion I spent eight hours on the phone with a Microsoft engineer fixing a slightly more complex problem. I know people who have had longer sessions. That's just my own limited experience with my own clients; there are lots of people with Exchange stories.
In the last five years, the mail system has become the single most important process running most businesses. If the mail system went down for my clients running SBS, it would be a calamity that would threaten the business. Lawyers and businesspeople live by their Outlook mailboxes. The calendars and contacts, the nonstop flow of email in and out – those are the things that drive our businesses and our law practices. The Exchange database is growing constantly. The server is working harder and harder to deliver ever-larger mailboxes.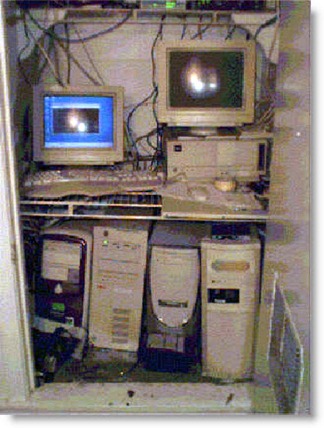 See that server in the closet? You bought it in 2004 or 2005 or 2006. It's sturdy. It almost never goes down.
But you know what? It's getting old. Your closet is dusty. It's hot in there. You're working the server harder than ever. You're hitting Exchange Server with mobile devices and laptops and home computers and more onsite workstations. Your mailboxes are getting bigger.
You're betting the business that Exchange Server will keep running the mail system without a wobble.
I'm starting to get scared that something bad will happen. Hard drives fail. Databases get corrupted.
I want you to feel my fear.
Microsoft Online Services will host those Exchange mailboxes for $5/month per mailbox. There's no guarantee that everything will be silky smooth but the responsibility shifts away from your closet and it becomes Microsoft's problem to keep that database running, to keep the Exchange Server up to date, to set up redundant servers so the mail system is not interrupted by a hard drive failure, to do backups.
I'll make less money if you move your mail online. One of the side effects of an Exchange failure is that I make a bundle of money. It's a huge payday. Those hours add up fast.
So all of you, my loyal clients running Exchange Server onsite: take away that opportunity for me to get rich at your expense. Let's get your mail offsite where it's someone else's problem!
Next week: more info about Microsoft Online Services.