Microsoft Security Essentials is simply the best security program currently available for Windows computers. Installing MSE is on the short list of chores that I insist on doing for every computer I work on.
The license terms are being changed to permit it to be used by small businesses, although that's not hugely significant since it has been used happily by small businesses all over the world ever since its release.
Microsoft Security Essentials was released a year ago as the free replacement for Windows Live OneCare. It is designed to provide first-class security protection against viruses and malware without calling attention to itself, and it delivers spectacularly on that promise. It installs in seconds and disappears, never raising unnecessary warnings and alerts like its competitors. Independent labs have confirmed over and over that MSE is one of the best-performing programs available at any price for catching and removing malware, with a lower impact on system performance than almost any other program on the market.
Until now, the license terms for Microsoft Security Essentials stated that MSE could only be used by home users and home-based businesses. According to the license, no one using a computer in an office could properly use Microsoft Security Essentials. That was likely done to minimize the antitrust complaints from competitors, who feel deeply threatened by Microsoft's entry into the security market. (That's the biggest reason that Microsoft doesn't include security protection in Windows out of the box.)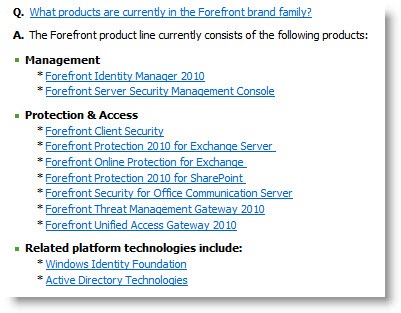 The only properly licensed security software from Microsoft for businesses has been the Forefront line of products, a cluster of nine different products typically installed on several different servers and managed by dedicated onsite IT teams who toil overnight and on weekends to keep everything running. In other words, it's an enterprise product. It has nothing to do with small businesses – the kind with 1-9 employees that make up roughly two-thirds of the businesses in the United States.
Today Microsoft announced that it is relaxing the license terms for Microsoft Security Essentials to permit it to be legally installed by small businesses up to 10 PCs for free, beginning in early October.
This is welcome news, although it doesn't change anything out in the real world that small businesses occupy today, where they're already using MSE. Granted, licenses are enforced much more closely now and businesses are far more compliant than in the old days when it seemed like the same copy of WordPerfect 8 was installed on every computer in California. Nonetheless, small businesses looking at their shrinking wallets have always bought the cheap Home and Student versions of Microsoft Office to use in their offices, despite the license restrictions. Licenses for standard versions of Microsoft Office and Adobe Acrobat frequently permit two activations but contain license restrictions stating that the software can only be installed where the two activations cannot be used concurrently (on a desktop and a laptop used by the same person, for example); those restrictions are commonly ignored.
very small businesses can and should use Microsoft Security Essentials. It's really, really good.
The Bruceb Consulting monitoring service will soon be able to check the status of Microsoft Security Essentials, so I'll be able to make sure updates are installed for my clients. Don't forget to call me or drop me a note if you want me to start monitoring your computers!