Adobe will release Acrobat 10 within the next few weeks. There are some good reasons to wait for it if you need Acrobat for a new computer. With luck it will cure a longstanding problem with Acrobat 9 and Microsoft Office 2010 – one of those weird things that make it so easy to be furious with Adobe.
Adobe Acrobat has become an essential program on many computers in law offices and small businesses. Everyone seems to find something important in Acrobat! Perhaps it's the uber-cool email archives from Outlook, with a folder of messages contained in a single PDF with attachments intact, sortable and searchable. Perhaps it's binders of documents, or Bates numbering, or sending OCR'd scans over to Word.
The toolbar buttons in Office programs and Internet Explorer are used constantly to create PDFs with more features than the similar – but less capable – files created by clicking on File / Print / Adobe PDF. Here's a dated comparison that gives you the idea:

The PDF print driver is the lowest common denominator, creating PDFs that have only very basic features. The toolbars and buttons added by Adobe to programs like Word and Outlook produce much richer files. Some features – like the Outlook email archives – cannot be accessed in any way except through the toolbar buttons.
If you get a new computer with Microsoft Office 2010 and install an updated copy of Acrobat 9, you won't have any Acrobat ribbon bars in the Office programs. No "convert" button in Word, no "Create PDF from selected messages" in Outlook. It's not a bug, it's a conscious decision by Adobe not to write an update for Acrobat 9 that would make it compatible with Office 2010.
It's bad enough if that takes you by surprise, like it caught me today. You can only imagine the mood of people who tried to make this work when Office 2010 was being tested prior to its release in June. After months of struggling, they were greeted by this tech support document in May – a flat refusal by Acrobat to engage the issue and fix their program.
Customers with Acrobat 9.3 and higher cannot see the Acrobat ribbon in Office 2010 applications. Customers with Acrobat 9.0 through 9.2 can see the Acrobat ribbon in Office 2010 applications. However, attempting to use any of the PDFMaker functionality from the Acrobat ribbon can cause the Office application to quit. . . .

Adobe has not formally tested Acrobat 9 software with Microsoft Office 2010 applications, and does not certify the behavior of using the two programs together. . . .

Will Acrobat 9 be updated to support Office 2010?

Adobe plans to add support for its Acrobat PDFMaker technology for Office 2010 in the next major version of Acrobat.
Got it? Adobe wrote its add-in for Office 2010. It was so full of bugs that merely touching it would crash Word or Outlook – "attempting to use . . . the Acrobat ribbon can cause the Office application to quit." So Adobe yanked it and decided not to fix it until they could charge money for an upgrade.
There was no timetable for the "next major version of Acrobat," and it has proven to be a six-month wait. Law firms and businesses that were dependent on the Acrobat technology were given a huge Adobe raspberry when they bought new computers. A translation of the Adobe line:
"Nope, we're not going to support important features of our $450 product now that there's a new version of the most widely distributed office software in the world, even though our product is designed and marketed around its features that are integrated with Microsoft Office. Oh, we'll get around to it when we're good and ready, but you're not going to be able to continue using the program you bought last year – you'll have to pony up money for a new version of our program. Don't look at us like that! We're busy. It's hard work fixing dozens of unforgiveable security vulnerabilities in our badly written programs!"
I might be irritable because my last few experiences installing Acrobat 9 have been unnecessarily difficult.
I navigated the labyrinthine Adobe store to get a license for Acrobat 9 Pro for a client late last year, and downloaded a huge 600Mb install file. It was depressing to discover that the first step was to download another 450Mb file to bring it up to date. Bring it up to date! I just bought it!
Three months later I navigated a completely different labyrinth to get another license for the same client. (Adobe had completely revamped its online store, apparently to make it more difficult to use.) Imagine my joy to discover that the license would not work with the 600Mb install file from three months previously. I had to uninstall that copy and download another 600Mb install file (seemingly identical, right down to the byte size), before I could activate the new license. Guess what! I had to download another 450Mb update.
This did not create good feelings.
I just installed Acrobat 9 from CD in another office. The installed version was 9.0, so we brought it up to date by installing the update to version 9.1 (103Mb). Followed by the update to version 9.1.1 (10Mb). Then 9.1.2 (35Mb). Then 9.1.3 (1.6Mb), 9.2 (161Mb), 9.3 (174Mb), 9.3.1 (5Mb), 9.3.2 (88Mb), 9.3.3 (89Mb), 9.3.4 (14Mb), and 9.4 (92Mb).
There had to be a way to shortcut that process but we could not find it – each update could only be installed over the immediately preceding version. It was truly horrible, easily the worst experience I've had installing software in years.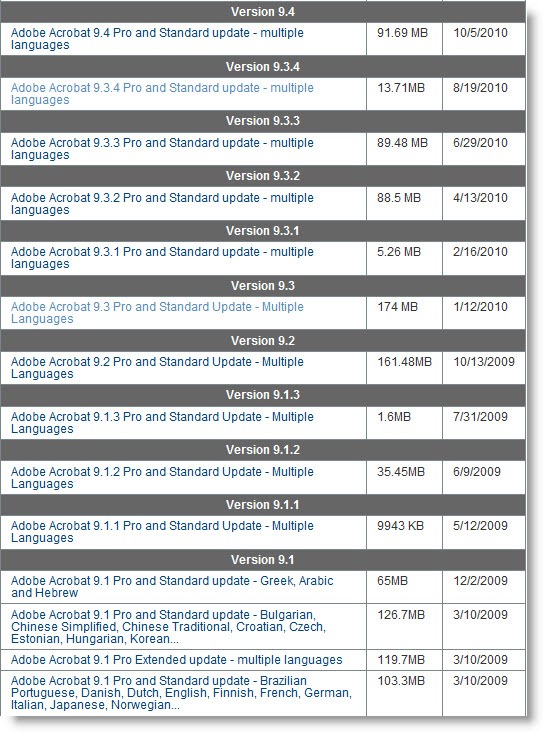 There are other programs that can create PDFs (tin fact, the Office 2010 programs have built-in routines for creating PDFs), but nothing has the range of features in Acrobat. We're stuck with buying it at inflated prices and dealing with Adobe's inadequacies for a long time to come. Acrobat 10 will fix the Office 2010 problems and who knows, perhaps it will introduce a few compelling new features. It's frustrating but necessary.
The preview program for Acrobat 10 went live a few weeks ago, and the signs are that the final release will be mid-October/late-November. No pricing information is available, but don't have any confidence that Adobe will offer free or cheap upgrades if you buy Acrobat 9 today. Hold off on buying Acrobat until we have more information about the new version.