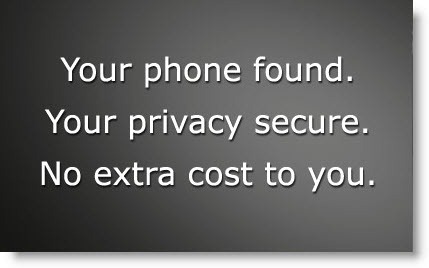 Verizon has introduced a new service that anyone with an Android phone should set up right away. It significantly enhances the security of the phone and adds some important features to make the phone easier to use. Oh, and it's likely to be free for most of you.
Doesn't sound like the Verizon that we know and tolerate, does it? This appears to be a genuinely good thing. I'm giving them the benefit of the doubt.
Verizon Mobile Recovery is an app installed on the phone that allows you to do five things if the phone is lost or stolen, all by logging in at the Mobile Recovery web site:
Remotely lock the phone.
Sound an alarm on the phone, to help you locate it f you think it might be nearby in a couch cushion or behind the car seat.
Display the phone's current location using the phone's GPS – or set the app to report in periodically with the phone's GPS position, letting you look later at a map of the phone's movements.
Wipe contacts from the phone remotely, if it has been stolen.
Obtain an expedited replacement if the phone is lost or stolen.
Most people pay $7.99/month for Verizon's "Total Equipment Coverage" for smartphones. The phones are expensive enough that it seems worthwhile to have an insurance policy offering a quick replacement if something happens. It's always a little shocking to discover that the replacement only comes after a hefty "deductible" payment of $79 or more, but the claim forms have been placed online and streamlined and my replacements have arrived the next day when I've had to file claims.
Mobile Recovery is a new service added to the Total Equipment Coverage, available to anyone signed up for TEC. Start at the web site or text GETMR to 6967; you'll be sent a text message with a link to the app. You'll choose a PIN when you install the app, which will let you go back to the web site to try things out. After you log in, the options are laid out cleanly on this toolbar across the top of the screen:

Technical note: The instructions don't make it clear that most Android phones will not install the app until a setting on the phone is changed. If you have trouble, go to Settings -> Applications on the phone and check the box to allow installation of programs from "Unknown Sources." That has to be frustrating for people who aren't expecting it, but according to the support forums:
Apple has a similar service for iPhones and iPads, Find My iPhone, which is available to MobileMe subscribers. As an Exchange user, I find the other MobileMe features to be pretty uninteresting but I would consider paying $99/year just for this extra security.
I want all the lawyers and businesspeople carrying iPhones and Android phones to stop for a minute and think about what it means to have your inbox in your pocket.
I've helped you set up your connection to Exchange so you can have your mail, contacts, and calendar on your new phones. It is extraordinarily convenient to be able to check your email and send quick replies any time, anywhere, with just the tap of a finger on the screen.
Now take a deep breath. You're carrying around a device that is easily lost or misplaced. It has your confidential and privileged client communications and it has no effective security. Leave it on the conference table at the deposition during a break, let it slip from your pocket when you lean over at trial, and you are in deep trouble.
I've written an article about how I felt when I realized that the Dropbox app on my phone would display my confidential files to anyone holding the phone. You are in the same position.
Enterprises and big law firms are deeply invested in technology to secure and wipe phones remotely. The Verizon and Apple apps provide a basic measure of security for small businesses and law firms. Take advantage of this program before any mistakes happen!