Adobe had to release major updates for Adobe Acrobat and Adobe Reader last night, to fix vulnerabilities that are being exploited out in the wild. The new updated versions are 9.4 and 8.2.5.
The last month has not been good for Adobe. Some major Acrobat/Reader problems turned up a month ago, Flash problems in the last couple of weeks. The details don't matter – they all sound alike: if you can be led to a poisoned web site or convinced to open a poisoned PDF file, bad guys can potentially crash your programs or even take control of your computer. Microsoft and Adobe are trying to stick to a schedule for updates; when they're forced to issue updates spontaneously, off the normal schedule, it's a sign that the problems are real and the bad guys are actively pursuing these weaknesses. Last night's updates address 23 separate vulnerabilities.
Take a minute and start Acrobat or Adobe Reader on your system and click on Help / Check for updates. Install any updates that are offered. If you're behind, it may take more than one update to bring your program up to date.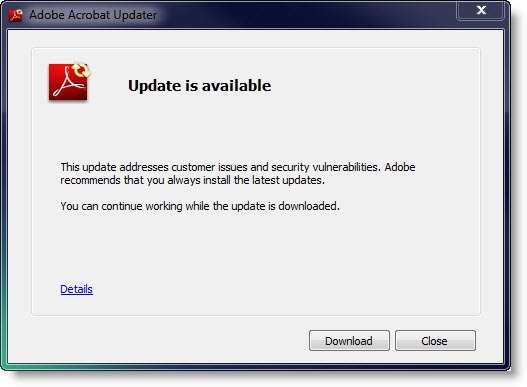 Amusing sidelight: those fun-loving Adobe engineers! They put a note in the dialog above: "You can continue working while the update is downloaded." Ha ha! What that translates too, roughly, is: "You're going to be inconvenienced by a system restart after the update is installed." Those kidders.