The good news is that Microsoft has released Windows Live Essentials 2011, an updated collection of free programs that are well designed and useful additions to Vista and Windows 7.
The bad news is that you almost certainly don't want all of them, and Microsoft has released them in a way that makes it more likely that you'll install them all by accident, with some side effects that you won't like.
The programs included in Windows Live Essentials 2011 have been shifting for the last couple of years – programs have been added and dropped, features have appeared and disappeared, and names have changed around endlessly. The original concept was to take some features out of Windows 7 and release them as separate downloadable programs so they could be updated more frequently. That's still true but now there are a few more agendas:
Add features to Windows 7
Add pressure to the move away from Windows XP (this release will run on Vista and Windows 7 but not Windows XP)
Create Microsoft-branded portals for your computer and your phone that will be the hub for your various social networks (in other words, find some way to show you Microsoft-sponsored ads while you look at Facebook updates)
Provide tools for you to move your files and services to the cloud
The programs are not all well-suited to achieve those goals, at least not yet, but it's a mighty effort by Microsoft.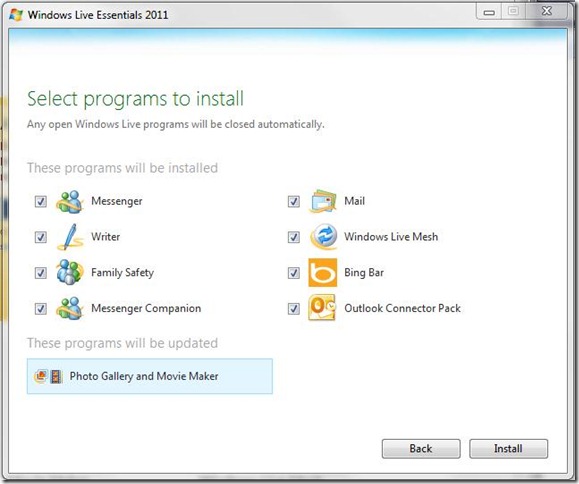 It makes for a long list of programs. You can read about each one on the official web site, or get an overview of how they fit in Microsoft's overall vision in this blog post from the official Windows team. Paul Thurrott did his usual fine job of describing each one at length in his review.
I'm going to add only a sentence or two, and I can only generalize.
There are no major problems with any of the programs and they won't hurt your computer. Each one might become a trusted friend if it suits you and you take time to learn about it.
Microsoft completely redesigned Windows Live Messenger. It's not just for IM chats any more! In Microsoft's vision, it's the program that you will have open all day to keep up with all your online services – Facebook, MySpace, Yahoo! Messenger, XBox, and more – in a dramatically different display best run full screen. Text, voice, video! Apps to run on iPhones, Zunes, Windows Phone 7! It's big and bold. I can't imagine anyone actually using it. Don't misunderstand me. Make it the center of your life with my blessing! There's nothing wrong with it. I just can't think of a single person I've ever met who will care about it.
Windows Live Photo Gallery is the best program available for working with photos, for anyone other than professionals. It is the truly "essential" program in this collection. You should install it, spend time with it, learn it, use it.
Windows Live Movie Maker is better than any other program I know for lightweight video work, but don't underestimate the difficulty of doing video projects. You can get trapped in a blur of acronyms and incompatible file formats and codecs. No program can make it easy or do it all.
Windows Live Mail is a lovely program for working with mail if you don't use Outlook. It connects to Hotmail/Windows Live Mail and Gmail as well as POP3 mail accounts, and looks very much like Outlook onscreen (preferably on a big wide screen). If you use Outlook or you're happy with the way Hotmail or Gmail works in a browser, then you don't need this.
Windows Live Writer is the best program available for writing blog posts. If you don't have a blog, you don't need this.
Windows Live Mesh is a mess. It can be made to do useful things but only after a steep learning curve and with some appalling limitations. You don't want it.
Windows Live Family Safety has nothing to do with the other programs. It's a complicated way to get some control over what kids can view online. If that matters to you, this can be made to work. (All the programs that try to do this are overly complicated. It's a hard thing to do.) Otherwise you don't need this.
The Bing Bar is an intrusive toolbar for Internet Explorer. If you are invested in your Microsoft account, it might be useful. For most people it's a waste of screen real estate.
I always want you to install programs conservatively – install only the programs you will use, leave off anything that you won't take the time to learn. I'm disappointed that Microsoft is pushing this suite out aggressively, without giving you a fair chance to avoid the unnecessary parts. I'll tell you next about the problems caused by labeling this an "important" update in the Automatic Updates system – and how to remove the parts of this that don't matter to you.