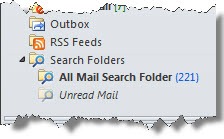 One of the most powerful tools you can add to Outlook is a search folder that allows you to search through all of your messages with a single click. I wrote about Michael Linenberger's suggestion to create an All Mail Search Folder a few months ago. If you haven't set it up yet, try it now! If you have the search folder set up, it may need to be updated if you rearranged your mail folders as I suggested last week.
The idea is to create a Search Folder that displays all your mail, from all folders and all dates, in one folder, sorted by date. Once you create the "All Mail Search Folder," you can put it into your Favorites in the upper left column and have single-click access to it. That immediately gives you two powerful new tools to look at your mailbox:
You can use the "All Mail Search Folder" to scan all your recent messages in one place, regardless of whether they are in Inbox, Sent Items, or a sorted folder. Sometimes the fastest way to locate a recent message is just to look down the list.
You can run a search from the search bar and automatically search all mail folders without any extra clicks or delays.
This works best in Outlook 2007 and Outlook 2010 and only works with messages in a single store – the Search Folder can't get mail from both your Exchange mailbox and archive .PST files, for example.
You should read Mr. Linenberger's article for more details but I'm going to take the liberty of reproducing his step-by-step instructions for creating the All Mail Search Folder.
How to Create the All Mail Search Folder

In the Navigation Pane folder list, right-click the Search Folders header, and select New Search Folder.
In the New Search Folder window, scroll to the very bottom and double-click the "Create a custom Search Folder" item at the bottom of the list.
In the Custom Search Folder window that opens, click the Browse button.
Clear the checkbox in the very top-level item, and then add check marks to all the next-level folders where you store your mail—that's most likely your Inbox, your Sent Items folders, and possibly the Processed Mail folder, and maybe more folders if you use a lot (see figure below). Make sure "Search Subfolders" is selected at the bottom—that way you do not need to open each checked folder and select all their subfolders—they'll be included. Click OK.

Back at the Custom Search Folder window, in the Name field type "All Mail Search Folder".
Click OK, and then click Yes at the error dialog saying that you have not specified any criteria (we don't want to). Then click OK at the New Search Folder window, and you are done! You can now see the All Mail Search folder in the Search Folder list.
When you click on the All Mail Search Folder the first time, it may take several minutes for it to appear, depending on how many items are in your mail folders. My system churned away for 4-5 minutes before displaying my 40,000 mail items. That's only necessary once.
After the All Mail Search Folder is listed in the Navigation Pane, right-click on it and click on "Show In Favorites". It will be listed in the list of Favorite Folders in the upper left, making it easy to reach for it all the time.
The first time you open the folder, it will likely show messages grouped by folder. Click at the top of the list of messages and set the list to "Arrange By: Date / Newest on top."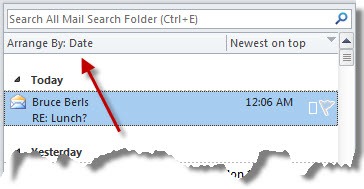 Update the All Mail Search Folder if you added an "Archived Mail" folder
If you have a busy Outlook mailbox, you might have moved some items out of your Inbox or Sent Items folder last week after I wrote about ways to improve Outlook performance.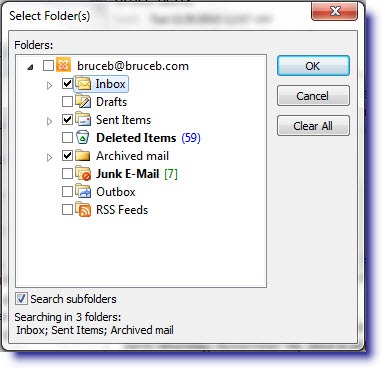 The All Mail Search Folder displays messages chosen from the list of folders in your mailbox. If you created a new group of folders – "Archived Mail," "Processed Mail," "Managed Folders" – you may have to update the All Mail Search Folder for those messages to be displayed. In that case:
Right-click on the All Mail Search Folder and click on Customize this search folder.
Click on Browse.
Add a checkmark for the new folder containing messages. Make sure the box is checked to search subfolders.
I use the All Mail Search folder to review the day and see all mail that went in and out, and I run almost all searches from there. Try it if you haven't set it up already!