I keep finding new things to like about Outlook 2010, which got a major overhaul this year and now features the ribbon bars that appeared in the other Office programs in Office 2007.
It's so easy to overlook things that are right in front of us onscreen! Here's something that happens out in the open that I had missed.
You already know that Outlook 2010 is completely indexed. The fastest way to find anything – a message, contact, or appointment – is to use the Instant Search box just below the ribbon. Start typing and search results will appear almost as fast as you can type.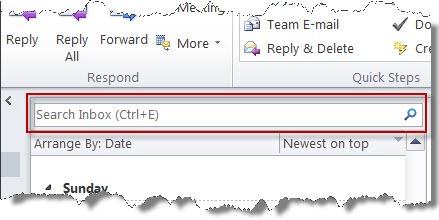 Here's the part I hadn't noticed.
As soon as you start typing in a search box, a Search Tools ribbon appears to help refine your search. Put your cursor in a search box in Outlook 2010 and look up. There it is! It's the weirdest thing. I use those search boxes twenty times a day and had never focused on that ribbon until today.
Do a test. Search for a word or two in your Inbox by typing in the Instant Search box. Now look at the things you can do with a single click!

The All Mail Items button on the left expands the search to cover all the folders in Outlook with messages – all the subfolders where you've organized your messages, plus the Sent Items folder.
Click on All Outlook Items to expand the search to cover everything in Outlook, including mail, contacts and appointments.
If you're looking for a message with an attachment, click the button for Has Attachments. If you know who a message is from, or a word that will be in the Subject, add it easily to the search. The button to narrow the search for items This Week can also be used to narrow in on today or yesterday or last year. There are dozens of other ways to focus your search under the More button.
If you know anything about what you're looking for in Outlook, the Search Tools ribbon makes it easy to find it. There's no excuse for losing anything in Outlook!
This nicely complements the All Mail Search Folder that I described a few weeks ago. In fact, I've become so confident about searches in Outlook that I no longer sort messages into individual subfolders for each client or project. I've got one big "Clients" folder, another big "Personal" folder, and one or two others. Dragging and dropping messages to keep the Inbox clear takes no time at all. I know I can display all the messages about a particular person or business almost immediately, without sorting the messages manually.