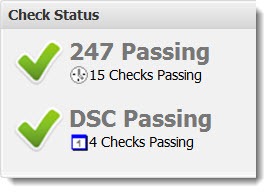 Previously:
Bruceb Consulting Offers New Patch Management Service
Yesterday I announced that my monitoring software will also install patches and updates for my clients. Let me give you a few more details about that service.
This works just as well for home computers and laptops. Monitoring a single home computer is easy and effective and just as important as protecting an office computer. I can bill you once for a year of service (separately from the office account, if you like), and have you up and running in five minutes. Drop me a line or give me a call to get started!
The monitoring agent also compiles a system inventory. If your laptop is stolen, for example, I'll have a record of the serial number, the Dell service code, and at least some information about the software that was installed. (I'll also be able to tell when a computer was last online, which might help the investigation.)
My update service does not replace Microsoft's Automatic Updates for Windows and Office. You'll still get the full benefit of Microsoft's update system, and your computer will still restart after installing critical updates once a month on Patch Tuesday. My software will identify any Microsoft updates that are overlooked or don't install correctly, as well as handling all the important third party updates.
I'm not going to update Apple iTunes or Quicktime. You'll have to do that yourself. In my experience, updates for iTunes do not install automatically very well, and they can have unintended side-effects.
If you're offered a legitimate update for Java or Flash or the rest, feel free to install it. If you're not sure, or you're feeling lazy, wait. Chances are the update reminder will disappear within a day or two, after my monitoring system takes care of it.
When my monitoring software is installed, I have remote access to your computers. You have to trust me – and you should. I was trained as a lawyer, bound by strict rules of confidentiality that I still take very seriously. I try to live up to the Code of Ethics adopted by LOPSA (although I don't belong to the group). For purposes of monitoring and remote access, you need to know my core principles: I do not look; I do not remember; I do not judge.
Finally, two important caveats about the patching and update service.
This is not a warranty. If a computer breaks because an update goes awry, I'll fix it at my normal hourly rates.
This is not a maintenance contract. If an update can't be installed normally, I'll use my best judgment and either fix it at my normal rates, or notify you and give you the chance to address it yourself.
I'm excited about being able to offer this service. Let me know if I can help!