Microsoft announced today that it is making OneNote Mobile for the iPhone available as a free download from the iTunes store. Here's a Microsoft blog about the new release. This has a bit of a back story that deserves telling.
---
OneNote basics  Every version of Microsoft Office 2010 includes OneNote – if you have a new computer, you likely have OneNote on the Start menu waiting to be discovered. It is my favorite Office program, and one of the ones I use most often. If you're not familiar with it yet, I urge you to learn more and try it. You might fall in love.
From my article introducing OneNote:
OneNote is a place to store and share ideas and information. It collects your notes and lets you find them later. It keeps anything you want to put into it – scraps of information, web links, photos, videos, files, whatever. You can keep things organized or create a freeform jumble and search for things later (everything is immediately searchable). You can share notebooks easily. The more you use it, the more useful it becomes.
---
Syncing OneNote notebooks online  One of the strong points of OneNote 2010 is its ability to store notebooks in the cloud in a seamless way, allowing them to be accessed from multiple computers. The iPhone app opens those online notebooks and lets you work on them, so that OneNote notebooks are readily available regardless of what device you're using. There's no difficulty and no downside to having OneNote notebooks stored in the cloud, other than having to figure out your Windows Live ID. Read my article for basic information about storing notebooks online!
---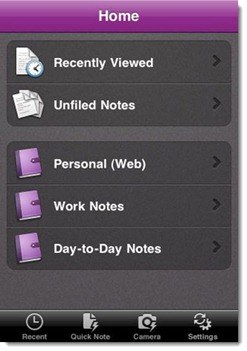 iPhone app  The iPhone app is free "for a limited time," according to Microsoft. The phone logs into your Skydrive account and lists the notebooks stored online. Anything added or changed in a notebook on the phone is immediately synced back to the online notebook; changes then appear in OneNote on your computer automatically, in nearly real time. Notebooks are built on a special architecture that lets them be edited in multiple places by multiple people simultaneously without ever losing track of anything.
I can think of two things that I'd try if I had an iPhone:
OneNote can be used easily for to-do lists. Outlook's task list does not sync easily to the iPhone, but now OneNote can take over as a full-featured to-do list that is available on all your computers and mobile devices.
There's a tempting button in the screenshot above for "Camera." It would be swell if that opened the camera to take a picture and immediately drop it into OneNote, where it will be immediately synced to the cloud and down to your computer.
---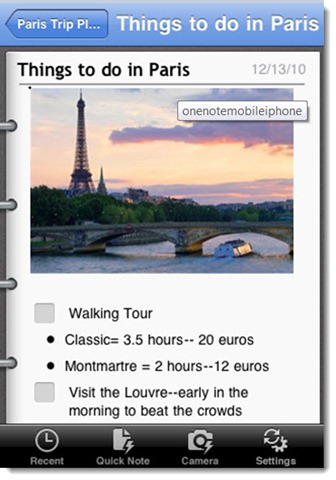 What this means for the future  This is the first appearance of an Office program on an iPhone; in fact, Microsoft has only released a couple of small apps of any kind for iPhones before today. The open question is whether this is an odd anomaly or whether Microsoft is considering a new strategy to expand its influence in the world of mobile devices by developing other mobile versions of Office programs. Here's one analyst arguing for a more open approach:
"While OneNote is a good start, I want to see Microsoft go further," said Forrester analyst J.P. Gownder. "I think Microsoft *should* create an iPad version of OneNote. Actually, let me be really specific: Microsoft is a software company. The company should offer software products across platforms to maximize its addressable market. The entire Microsoft Office suite should be made available on the iPad. Otherwise, Numbers, Pages, etc. for iPad will only continue to grow."
OneNote is an obvious fit for the iPad, which is perfect for quick note taking; I'd expect the iPhone app to be followed by a version of OneNote customized for the iPad, but nothing is obvious about Microsoft's plans these days.
The question left hanging is whether Microsoft will do anything similar for Android phones. At the moment the only Android option is a third-party app, MobileNoter, that can do a limited sync with OneNote. Microsoft gave no indication of its plans today; it just threw out the iPhone app and left it twisting for us to stare at, wondering what it means.