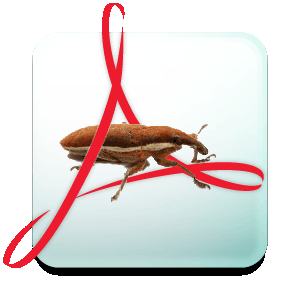 Adobe has distinguished itself yet again by issuing an update with a flaw that breaks the ability to print from Acrobat in certain cases.
Sigh. Acrobat is so useful! Wouldn't it be nice if was also developed by a company that treated us fairly and had a clue about how to program?
On February 8, Adobe released an update to Acrobat 9 and Adobe Reader 9, bringing each up to version 9.4.2. The update was focused on security issues, which always sound scary: "These vulnerabilities could cause the application to crash and potentially allow an attacker to take control of the affected system."
On February 9, the first message appeared in an Adobe forum from a user who could no longer print from Acrobat. After installing the update, in some cases, the printer dialog comes up normally when the Print icon is clicked or when File / Print is chosen, and disappears when the next Print button is pressed, but nothing is sent to the printer and the print queue stays empty.
Hundreds of messages have followed that post, as well as more filling up a second forum thread that started a couple of days later. I've run into it twice now.
Can you imagine what would happen if Microsoft released a "security update" to Word or Excel that broke their ability to print? Acrobat is a business-critical program. This is just not acceptable for a company that is playing in the big leagues.
Adobe eventually published an unapologetic set of workarounds but has not yet indicated when (or whether) it will release a new update that fixes the problem. The 9.4.2 update is still being pushed out without warning.
UPDATE 02/24/11

Adobe's tech support note has been updated with a small program that automatically fixes the problem. If you experience this problem, go here and run the AdobePatchApplication.exe file, then restart your computer. This is only necessary if you're having a problem! If Acrobat 9 is working normally for you, don't worry about this issue.
Here's the basic information you need.
If Acrobat 9 is working normally for you, don't worry about this issue.
The printing bug primarily affects people using HP printers, particularly if the printers are networked.
If you run into this, the easiest workaround can be reduced to these steps:

Close all open programs and windows.
Go to Printers and Faxes and set the non-working printer as the default.
Locate the file c:Program Files (x86)AdobeAcrobat 9.0Acrobatadobe.acrobat.dependencies.manifest
Right click the file and open with Notepad
Delete the line <file name="atl.dll">
Save the manifest file.
With luck, you'll be printing normally again.
Sheesh.