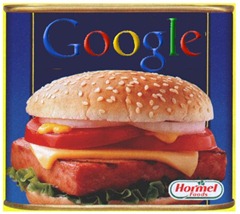 Previously:
Google Spam
Google Spam – Google Responds
If you are interested in Search Engine Optimization and the business of running web sites, the New York Times has published a must-read article, "The Dirty Little Secrets Of Search." The paper launched an investigation to discover why JC Penney was ranking number one in Google search results for dozens of words or phrases – "dresses," "bedding," "area rugs," and many more. For months – running through the holiday shopping season – a search for "Samsonite carry on luggage" would show Penney first on the list, ahead of Samsonite.com.
The Times unfolds the story like a thriller, right down to an expensive dinner with the owner of a black-hat SEO company who won't disclose his real name and speaks "in an animated hush, like a man worried about eavesdroppers."
Here's the way the NYT describes the dark side of SEO:
. . . [T]he digital age's most mundane act, the Google search, often represents layer upon layer of intrigue. And the intrigue starts in the sprawling, subterranean world of "black hat" optimization, the dark art of raising the profile of a Web site with methods that Google considers tantamount to cheating.
Like most major companies, JC Penney had hired a "search engine consulting firm" to improve its search rankings. It was presumably that firm which had gamed the Google search system by scattering thousands of links to JCPenney.com onto unrelated web sites. The New York Times story is richly detailed but there are even more technical details in an article on SearchEngineLand:
The investigation found that thousands of seemingly unrelated web sites (many that seemed to contain only links) were linking to the J.C. Penney web site. And most of those links had really descriptive anchor text. It was almost like someone had arranged for all of those links in order to get better rankings in Google.
(Matt Cutts, Google's web spam czar, twittered approvingly about the SearchEngineLand article: "A must-read for companies thinking about SEO.")
The New York Times sent the results of its investigation to Google, which manually tossed JC Penney to the bottom of the search rankings a few days ago. Penny promptly fired the consulting firm and presumably all involved will be squabbling to tell their sides of the story in the next few days. Expect Google to redouble its efforts to restore confidence in its search results.
Let's give the last word to the black hat link-selling specialist interviewed by the Times:
"I think we need to make a distinction between two different kinds of searches — informational and commercial," he said. "If you search 'cancer,' that's an informational search and on those, Google is amazing. But in commercial searches, Google's results are really polluted. My own personal experience says that the guy with the biggest S.E.O. budget always ranks the highest."

To Mr. Stevens, S.E.O. is a game, and if you're not paying black hats, you are losing to rivals with fewer compunctions.