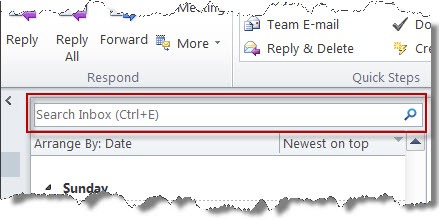 I fixed a problem today with Outlook 2010 that has never come up before and won't have any relevance to any of you. This description may help someone who finds it in a Google search – and it will serve as yet another illustration of how our lives are getting more complicated, not less, as time goes on.
---
SUMMARY: If searches do not work in Outlook 2010 on Windows 7, make sure the Windows Search and Indexing Service features are turned on. The COM addin mssphtb.dll ("Windows Search Email Indexer") is not required by Outlook 2010 and is intentionally disabled.

Note that there was a followup for a very specific additional issue with the Samsung Series 9 laptop.
---
I pulled a new laptop out of the box and started up Windows 7 Home Premium. After the first few rounds of updates, I installed Office 2010 Professional from disk and connected Outlook to my Exchange mailbox. The mailbox filled up normally.
When I put my cursor in the Search bar above the Inbox (shown above), a message immediately appeared: "The Windows Search Engine is currently disabled. Outlook will not be able to provide fast search results using the Instant Search functionality unless this service is running. Please contact your system administrator."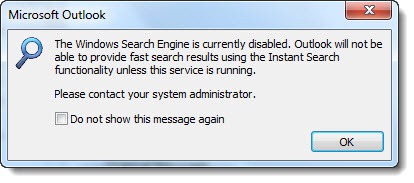 I contacted my system administrator. He didn't have a clue, what with being me and all.
The search features in Windows 7 and specifically in Outlook are the center of my life. I cannot use Outlook without being able to search. There's an article today in Small City Law Firm Tech about the wondrous Search toolbar in Outlook 2010. You should always be searching for things, not looking for them in long lists.
In the course of the next couple of hours, I did all of these things.
The Windows Search service (Control Panel / System and Security / Administrative Tools / Services) was disabled. I enabled it. It was still on after I restarted, until I launched Outlook, at which point it immediately flipped back to "Disabled" (although it continued to show "Started," which was strange).
I ran the built-in repair process for Office 2010 (Control Panel / Programs / Uninstall a program / highlight Office 2010 / Change).
Outlook 2010 provides direct access to the Windows 7 Indexing Options dialog (File / Options / Search). The button was greyed out.

When I reached the Indexing Options window from Control Panel, Microsoft Outlook was not listed as a place to be indexed, and could not be added from any control in that window. I deleted and rebuilt the index, with no effect.
Windows Search is one of the items listed in Control Panel / Programs and Features / Turn Windows features on or off. It was checked. I unchecked it to turn the feature off, restarted, checked it to turn it back on, and restarted. Nothing changed.
At some point I saw that an Outlook COM addin named "Windows Search Email Indexer," was disabled. (File / Options / Addins. The file is C:WindowsSystem32mssphtb.dll.) Nothing I tried would convince it to stay enabled. Ah ha!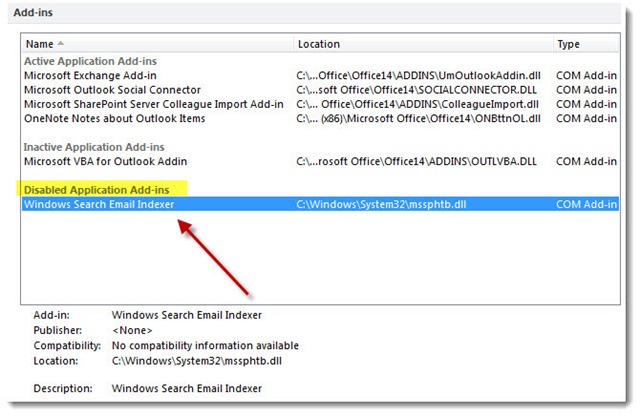 This addin dates back at least to the introduction of Windows Search for Windows XP. It took a while to discover that mssphtb.dll is not needed by Outlook 2010, which is programmed to disable it. It is unclear why it's present on a brand new system that has never seen another version of Windows or Office.
Sadness.
Eventually I realized that I had overlooked a detail in this article, and that the answer was in this article (by an author who thought the problem stemmed from an upgrade from Office 2007).
There are two Windows features that need to be installed and running on Windows 7 for searching to work in Outlook 2010: Windows Search (pictured above), and Indexing Service.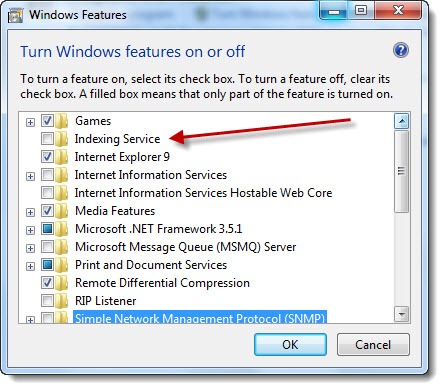 The Indexing Service was unchecked on my new laptop. I don't know if it arrived that way or if it was disabled during installation of Office 2010 or some other program. I don't know why there are two different Windows features that have to be turned on for searching. Although the name shown is "Indexing Service," it doesn't appear by that name in the list of Services in Control Panel.
When I checked the Indexing Service and restarted, Outlook searches were completely normal.
Now that I've learned that and tucked it into one of the few remaining empty corners of my brain, I don't expect to ever see it again. Tomorrow it will be something different. I remember when I used to know how to do things instead of how to do Google searches!