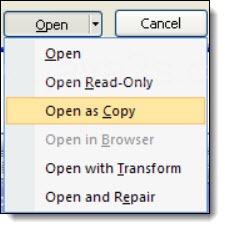 Every Word user does it the same way: open an old document and resolve to click on "Save As" and save it with a different name so the original file is untouched.
Instead you edit the file, let your concentration slip, and hit "Save" instead of "Save As." Poof! goes the original version of the file, replaced with today's edited version.
"Save As" is a trap. There are better ways to re-use old documents. Here are three ways to use an existing Word file as the starting point for a new file.
[Inspired by Vivian Manning's exhaustive series over at Small City Law Firm Tech, which should be on your Favorites list. Follow the links below to the original articles with more details.]
---
In Windows Explorer, right-click on an existing Word document and click on New
When you click on New, Word will open an unnamed copy of the original document with no risk of accidentally overwriting the original.
This is not done inside of Word! Close Word or minimize it. Click on the Start button and open your Documents folder from the Start menu, or click on the Explorer button on the task bar.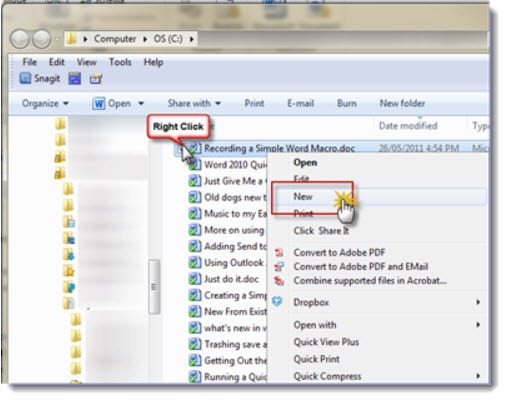 This one is deceptively powerful. Try it! Remember it! Somehow this one had slipped past me for ten years. Let's use this trick and never have any more "Save As" problems.
---
In Word, click on File / Open / Open As Copy
When you highlight a document in Word's Open window, don't just double-click on the file to open it. There is an option hidden in plain sight in a drop-down from the Open button: "Open as copy." Again, Word will open an unnamed copy of the original document.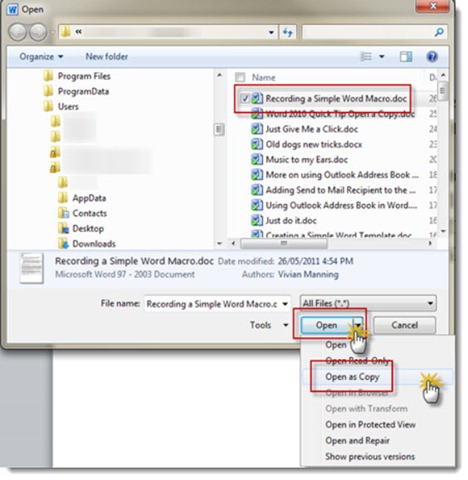 You'll find the same option on various right-click menus.
---
In Word 2010, click on File / New / New From Existing
Word 2010 has another option in its expanded "backstage" view. "New from existing" appears as a template; it brings up a window to browse files and opens the old file as a new unnamed document without changing the original.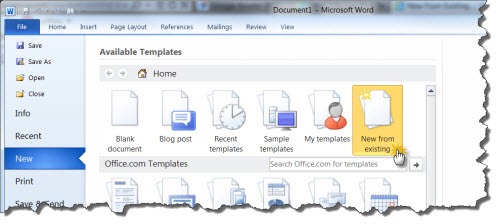 This is new to Word 2010 and won't appear with older versions of Word.
---
More information
You'll find more details and screen shots in three articles by Vivian Manning this month:
Let's not have any more conversations about restoring overwritten files from backups! It's too easy to avoid being in that position.