Previously:
Battle Of The Browser Updates
Comparing The New Internet Browsers
Syncing Bookmarks And Favorites With Firefox 4 And Chrome 10
Syncing Bookmarks And Favorites With Internet Explorer 9
Windows 7 and Vista users are also likely to be seeing prompts to install Internet Explorer 9. Like Windows 7 Service Pack 1, IE9 will not be installed automatically by Windows or by my monitoring service.
Although theoretically Internet Explorer 9 is optional, you should install it when you're ready. It's safer and faster than previous versions of Internet Explorer, and it supports new technology that will slowly come to be used on the web sites you visit. You should install it even if you don't use Internet Explorer, to get the benefit of underlying updates for Windows HTML rendering components.
Internet Explorer 9 is easy to install and does not require any special preparation – other than preparing yourself for Internet Explorer to have a new look.

It's very streamlined, like the latest versions of Firefox and Google Chrome. The home button moves to the upper right. Favorites and history are collapsed into a single star next to it. The gear in the upper right holds all the menus, print commands, and options. Everything is there that you use in Internet Explorer 8 but you'll have to look around a bit while you get used to it.
There are two changes that deserve special attention.
The missing Search box
This is the first release of Internet Explorer without a separate Search box at the top. The "One Box" can take either a web site address (https://www.brucebnews.com) or a search term. If you type in a word or a phrase, it will perform a search. Don't worry about going to Google if you're looking for something – just type your search up at the top. (Firefox and Chrome work the same way.)
When you start typing, a dropdown list will show you search results as you type from your history and your favorites as well as from your default search provider. The controls to choose search providers are at the bottom of that dropdown list.
Notification Bar
You've become used to the bar that appears at the top of the Internet Explorer window to give you a security warning, or when some action is required – downloading a file or running a program from a web site, for example, or installing an add-in component to run a web service. Microsoft called it the "Information Bar."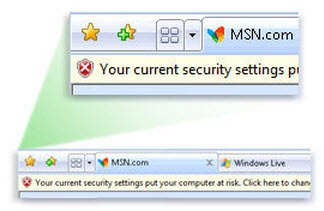 All notices will now appear at the bottom of the browser window. Microsoft changed the name to the "Notification bar." It's less intrusive, which is meant to be a good thing. I find that I miss things because I'm not used to looking down. If you watch the bottom of the window, you'll see prompts to memorize passwords, warnings about secure content, the dialog to open or save a download, and more.

Downloads are a special problem, by the way. Internet Explorer asks if you want to run or save downloads; Firefox and Chrome don't ask, they just save them. The files are saved in your default Downloads folder. Each browser has a way to open a download manager – in IE9, it's a click on the gear / View Downloads. But you can also find your Downloads folder by clicking on the Start button and clicking on your name on the top right. It's an easy way to display all the folders in your User folder – Downloads and Favorites, plus Documents/Photos/Music/Videos. (Fun fact – you can change your picture on the login screen and the top of the Start menu by clicking on Start, then clicking on the picture.) By default, you also have a link to the Downloads folder in the Favorites section of your Explorer windows.
Enjoy your new browser! It's noticeably faster on some web pages and seems to be rock solid on healthy systems. Be careful out there!