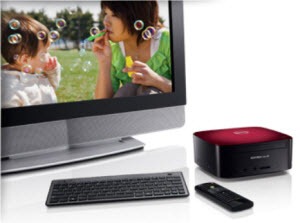 The little box in the picture to the left measures eight inches across and just over three inches tall. It's quiet and inexpensive. In this difficult world of technology, the best I can tell you is that it might be just what you're looking for.
The Dell Inspiron Zino HD is a compact little computer that is best used for a single purpose: to bring your photos, music, and videos to the big screen TV in your living room. There are more details about the Zino in this review.
The Zino runs Windows 7 and has sufficient processing and video power to decode most video formats. It has an HDMI output for audio and video, along with other standard ports. It's around $400 for the basic version, plus a bit more for a BluRay drive, a wireless adapter, or a few other add-ons. The Zino includes a remote control and wireless keyboard/trackball that can be used from the couch.
It needs to be wired to your home network, which is the first difficult part for many people. It's also possible to connect it wirelessly but be warned that your video will skip and your connection will drop and at times you will throw the remote control at the Zino in disgust, which will scratch it and make it irritable. Run a wire to the living room if you haven't already.
Assuming it's connected to the network and you've got the HDMI cable hooked up to your TV or receiver so it displays a picture and makes noises, the hard part is whether you can set something up for it to display or whether you'll get stopped by the technical stumbling blocks. It takes the same degree in rocket science that is required for all home theater work today.
Random examples:
Windows 7 can be set up to make photos, music and video available all over the network, using the HomeGroup feature that you ignored when you set up your computer because you didn't know what it was. Essentially files stay in their storage location on various computers and Homegroup makes it possible for all computers to access them. This can be sufficient by itself for most purposes.
Separately, Windows 7 has the ability to stream media from one computer to another. It's another way for the Zino to display the photos and play the playlists that you set up on the computer in the bedroom. This screen appears under "Advanced Sharing Settings" in Network & Sharing Center.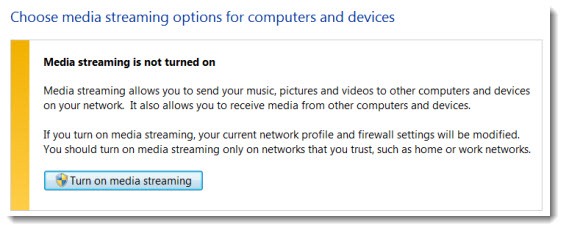 Personally, I find Windows 7 media streaming to be poorly documented and difficult to understand, but when it works, it works beautifully. You might find that the Zino simply finds the bedroom computer and immediately offers to play its music and display its photos, with no fuss.
Windows Media Center, built into Windows 7, is lovely. It's the blue screen designed to be used with a remote control from the couch. The Zino does not include a TV tuner; that makes it far easier to set up Windows Media Center, but bear in mind that you will continue to need a Tivo or Comcast DVR for TV in addition to the Zino.
There are limitations to the video formats that Windows Media Center will agree to play. Everything about video is difficult and confusing so this is not necessarily a strike against Windows Media Center in particular.
This is a particularly good way to stream Netflix movies and play Hulu shows, although your TV and your Tivo might already be able to do that. Since it's a computer, it can also stream Amazon movies and browse YouTube and the like, but you'll be happier if you live within the constraints of the Windows Media Center 10-foot interface and never leave it.
Personally, my media life revolves around J River Media Center, which is now strongly focused on media networking. I have access to my entire J River library on my Android phone and on my notebook, streaming over any Internet connection. I set up the Zino this way:

Install the CCCP video codecs and restart.
Install CoreAVC to decode high quality H.264/MKV video files and restart.
Install J River Media Center 16.
Connect to the J River library in the office. J River is now built on the standard for media networking, DLNA, which has a complex vocabulary of Servers and Renderers and Controllers. The reward is that everything can go in every direction. The music/photo/video library lives on one computer and can be reached everywhere else it's needed. The Zino displays the whole library and all the playlists and it's always up to date. An iPad or Android phone can be used as remote controls in the living room. Music can be piped to multiple zones in the house. It's complex but it works.
Configure J River to start in Theater View, the 10-foot remote control sit-on-the-couch interface, which has now been polished to a high sheen to look as good as Windows Media Center.
Since J River can play virtually any file in any format, I have access in the living room to the family photos, a couple of hundred movies that I've ripped with DVDFab, and my meticulously tagged music library and playlists. It's beautiful.
In the last few years it's taken a couple of thousand dollars to replace various bits of incompatible equipment in the living room, and I've spent literally dozens of hours working on technical mysteries.
But the result is that when I dropped the Zino into place, it turned out to be just perfect. Maybe it will be for you, too.
I will add one cautionary note, though. This is not well suited to be a general purpose computer, for many reasons. You're missing the point if you think you can get a swell computer for four hundred dollars, install Microsoft Office on it and use it at your desk. It's not a high-powered gaming computer and won't behave well if you install Call of Duty and try to play from the couch. You will have better luck if you buy it for the single purpose that it does so well.