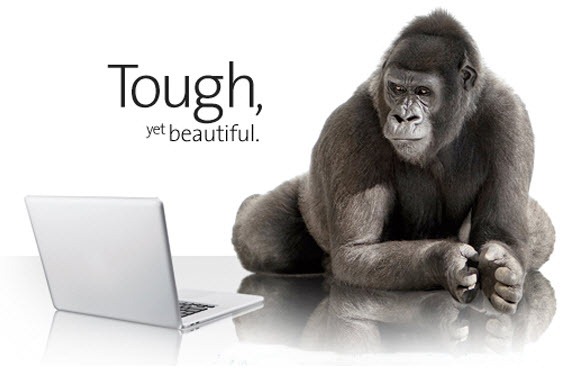 You jangle your keys in your pocket next to your Motorola phone and the screen isn't scratched. You drop your iPhone and the glass doesn't break. You jab with an icepick over and over at a Thinkpad X1 laptop and for goodness' sake, I hope you stop to wonder what in the world is wrong with you – but the screen isn't damaged.
Gorilla Glass is not secret. Corning has been taking out ads for months trying to get you to notice it. It's one of the important components of the mobile device revolution, hiding in plain sight.
Gorilla Glass is used on smartphones from HTC and Motorola and Samsung, on notebook computers from Acer and Lenovo, on tablets from Dell and Asus – more than 300 million devices worldwide, according to Corning's official list. Most importantly, it is widely understood to be used in iPhones and iPads, but Apple does not permit Corning to acknowledge that. ("Due to customer agreements, we cannot identify all devices that feature Gorilla Glass. Your favorite device may include Gorilla Glass, even if you don't see it listed.")
It's just glass but it's chemically tempered in a unique way that makes it light, thin, strong, clear, and extraordinarily scratch resistant. It's not impossible to break it or scratch it, but you have to work much harder than any other type of glass or plastic.
The advantages of Gorilla Glass are so compelling that it is being routinely used in mobile devices and is starting to appear more and more frequently in laptops and tablets. The next step will be use of Gorilla Glass for television screens, as Sony is already doing with some Bravia models.
Gorilla Glass has been a driving force in the explosive growth of the market for mobile devices and tablets. We would buy smartphones much more reluctantly if they were fragile and easily scratched, or if every drop to the floor resulted in flying shards of glass. Corning is investing in factories in the US and Japan; sales in 2009 were already a respectable 100 million dollars, but Corning is on track for Gorilla Glass sales to approach the billion dollar mark this year.
There's a great back story. Corning developed a strong glass in 1962 and shopped it around as "Chemcor" in 1962, without much success. It sat on Corning's shelf, mostly unused, for decades. It wasn't until 2005 that Corning saw an opportunity in the burgeoning market for smartphones and pulled out Chemcor to take another look. It tweaked the design to make it even stronger and more durable, gave it a new name, got a new patent, and – maybe – had a meeting with Steve Jobs that propelled it into the stratosphere.
Treat your devices kindly. Gorilla Glass isn't unbreakable. But you can relax a bit – you're covered against the scratches and nicks that would have taken down older devices with plastic screens.