Lynda.com is a learning and training site with video tutorials to teach software skills. It has courses at all levels, from novice to expert, and it covers a wide variety of programs and subjects with something for almost everyone, from photography hobbyists to business and graphics professionals.
I'm frequently asked where to find help or how to get started with a program. Lynda.com is going to be one of my answers to that question for many programs.
It's particularly good with deep and complicated business and professional software. There are extensive libraries of videos about notoriously difficult Adobe programs, for example. Andrew and I went through a 15-hour course on Adobe Dreamweaver CS5.5 that covered everything from CSS basics to details about how to maneuver through the program's multitude of panes and menus and toolbars. We could not have used the program without that training; we felt confident when we had finished. Lynda.com has 15 more courses on various specific aspects and uses of Dreamweaver CS5.5, and many more on previous versions.
Here's another example, the list of courses about Microsoft Word: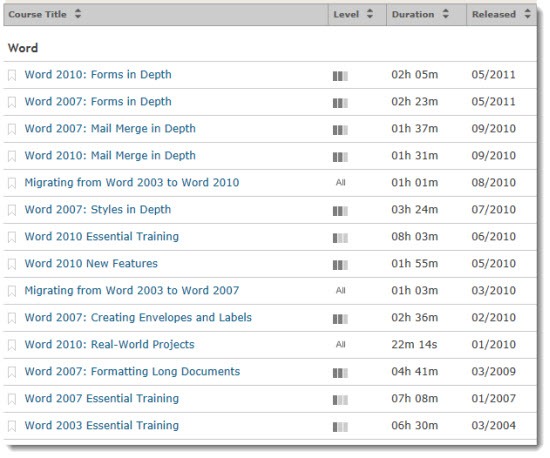 There is a four hour course on Quickbooks 2010, there are deep resources for Adobe and Microsoft programs, and there is much, much more – from Google Calendar to GarageBand to Facebook (!) to the dark mysteries of PHP/MySQL. Most law firms and small businesses would benefit from training in Adobe Acrobat. The courses might even make Photoshop or Photoshop Elements comprehensible.
Almost all the courses are screencasts with voiceover narration. Our Dreamweaver course was first-rate in every way: organized logically and clearly, with a likable narrator delivering solid information and useful tips, and detailed videos with annotations to highlight whatever was being discussed. The chapters and subchapters are labeled clearly so you can jump to whatever specific content will be helpful.
The pricing is the best part. For $25, you have open access to all videos for a month – no long-term commitment, no limits. You can watch the same course over and over, you can sample any lesson, you can watch videos every day for a month. There is a "premium" plan ($37.50/month) that allows you to download exercise files that match the onscreen instruction, which might be valuable for people who want to follow along at home. There are business plans for 5 or more people with extra administrative and monitoring tools.
I'm impressed. There is no shortage of training resources in the world (Adobe and Microsoft have training materials available for free on their sites for specific products, for example), but Lynda.com makes it easy to find a lot of high-quality training in one place, with a well-designed web site that makes it easy to track where you've been and where you left off.
I know it's hard to find time to learn things but at some level you know that you'll save time in the long run if you get smarter about using the programs you struggle with every day. Think about it! I've got my subscription rolling over and I'm going to try to go back often.