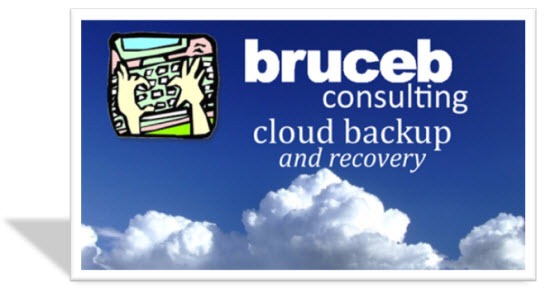 Previously:
Redundancy, Backups, And Redundancy
I am excited to be able to offer Bruceb Cloud Backup, a managed online backup solution designed for small businesses and individual users. It is secure, flexible, affordable, and adds an important level of protection for your files.
Unlike a backup to an external hard drive, Bruceb Cloud Backup securely transmits your files to state-of-the-art data centers, where they are safe from theft, fire, spills, power spikes, and all the other things that can happen in your office or home.
There is detailed information about the service at the Bruceb Cloud Backup web site. Here's the overview.
Getting started  When you sign up for Bruceb Cloud Backup, I'll install a small bit of software on whichever computers have data that you want to back up. No setup fee, no hourly charge for getting started, no hardware to purchase, and little to manage!
Control over backups  We'll work together to choose what gets backed up. You can designate the entire Company folder with all the business documents with a single checkmark or you can drill all the way down to individual files. You can change what's backed up at any time.
Multiple computers  You can install the software agent on more than one computer and back up files on mapped drives – no extra charge.
Security  Your files are encrypted using state-of-the-art, 256 bit AES encryption and stored in redundant, secure data centers.
Recovery  Backed up data is useless if it can't be restored quickly and easily. With Bruceb Cloud Backup, restoring files can be accomplished at any time with just a few clicks of the mouse.
Revisions  You can store an unlimited number of versions of the same file and go back to previous versions at any time. You have complete control over the revision policy.
Monitoring  You'll have access to a dashboard to check the backup status for your computers, monitor your storage level, download the software to add another computer, and purchase more storage if needed. I'll be monitoring your status as well, making sure that backups happen as planned.
Efficient use of bandwidth and storage space  Once your files are online, the backup software copies only block-level changes, making the best use of your bandwidth and reducing the storage space used by files that change frequently. You can retain files indefinitely, even after they've been deleted, or you can free up storage space by cleaning out stray files automatically.
SQL and Exchange support  Bruceb Cloud Backup is fully Exchange and SQL-aware and observes all Microsoft best practices for successful database backups.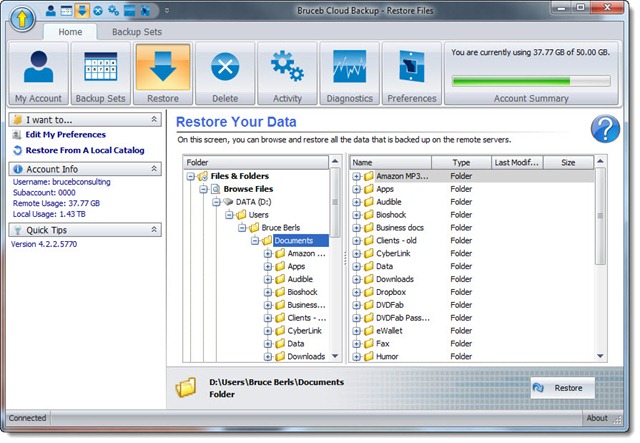 There are several different plans, based on the amount of data that you want to back up. If you store more data than you planned, nothing stops working. This is not an "unlimited" plan (like the consumer-grade plans that turn out to have more technical and space limitations than you realized); you'll pay more if you use more storage than the base amount included with your plan. But your backups will keep running and you can move to another plan with more space at any time, whenever it's to your advantage.
Technical support is included. I'll help you get set up, answer questions, make whatever adjustments are called for, and do the routine housekeeping to recover files that go missing.
There's one more important option that I'll describe tomorrow – a way to have the same backup agent store your files locally and in the cloud, giving you the best features of both at a low price.
When there's a crisis, I'll use good judgment to find the best way out of it for you, at my normal rates. An example of the level of service that sets this apart from consumer-grade backup services: if we're stuck and there simply is no option except to get all the backed up data onsite from the cloud as soon as possible, we can have it there the next day, shipped overnight on an external hard drive. It costs extra money but the option is there if the business is at risk.
That's what peace of mind is all about.
I don't want to have any more lost data! Give me a call or drop me a note and let's talk about Bruceb Cloud Backup.