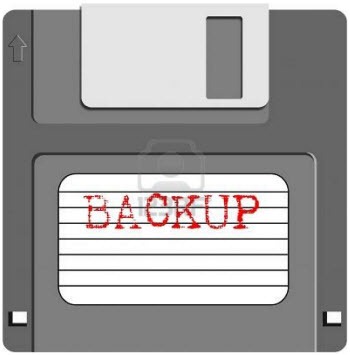 You're all doing backups. Good job!
(You're not doing backups? Pfft. That's just foolish. Call me – don't put it off, just call me.)
Let's go through the backup strategies that you have in place. I have some anecdotes that lead me to think that a single backup plan isn't enough. Tomorrow I'll tell you about the new online backup service that can – and should – be doing redundant backups for you.
(Want a peek? Shh. Take a look but don't tell anybody.)
Here are some stereotypes. Tell me if you recognize yourself.
If you have a home office or very small business with a handful of workstations, you're probably running the backup system included with Windows Vista and Windows 7 on the computer that you refer to as the "server" because it holds all the important files – but maybe not on the other computers. You're collecting backups on an external USB hard drive. If you're particularly diligent, you have two drives that are rotated every week.
If you have a small business with a server, you're likely also using external hard drives and backing up the server with the Windows Server 2008 backup system, or perhaps ShadowProtect or another server-level backup program. You're probably supposed to be rotating backup drives but you're not sure if that's really being done. Perhaps you have a network storage drive that holds some backup files. It's a pretty good system.
A few of you set up a Windows Home Server box to get backups of the workstations, but most of you are just hoping that the workstations aren't hard to replace when they fail. There are files on them that really should be backed up – Outlook archives, Internet favorites, files stored on desktops or in local document folders, and more. They'd be lost if the workstation's hard drive failed unexpectedly, whether the server is backed up or not.
Everyone hates the thought of losing data, but almost everyone would rather let them slide than listen to an IT person screeching about Doom! Doom!
Sorry.
Last week a client nearly lost a business-critical database because the backup drive had been unplugged by some folks doing wiring work in the office.
A law firm's server was nearly lost in its entirety last year when an electrical event took out the server and the network attached storage with the backups. (The external hard drive with a second copy of the backups survived. I was sweating a lot by that time.)
I just helped a client replace an external hard drive that was supposed to have been backing up the business server. The drive was 120Gb, the data to be backed up was 130Gb. No backup had actually succeeded since May.
A new client was referred to me for help after her computer failed. She presented me with the backup drive to restore her data. After much work, we never did figure out what program had been doing the backups – probably something long obsolete packaged with a hard drive or utility. The data could not be restored. Poof! It was gone.
There are more. Oh goodness, there are more. That doesn't even get to the ultimate horror story, the one where the building burns down. It happens.
Here's the takeaway.
Your computer probably won't fail tomorrow.
If it does and you've been careful, we can probably restore your data from your backup.
But if you're running a law firm or doing business or selling real estate or doing taxes or dealing with customers, then probably isn't good enough. Your business cannot survive a serious data loss.
The time is right for another layer of protection. It's important. I want everyone to consider it closely. Details tomorrow!