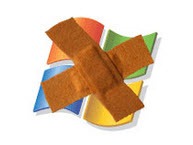 Microsoft released a particularly large crop of patches and updates on Tuesday. Your computer probably restarted on Tuesday or Wednesday night.
If you're a subscriber to the Bruceb Remote Management service, your computer is also installing additional Microsoft updates that were released at the same time as the critical updates sent through Microsoft's Automatic Updates system.
Java version 6 update 30 will be arriving on all your computers soon, too. If you install it manually, please make sure to avoid the noxious Ask Toolbar being pushed along with it!
If your computer is even a little wobbly on Thursday or Friday, restart it. It may be struggling to absorb all this new material. You might want to restart in the morning for the next couple of days just to make sure the computer has cleared its pipes from the night before.
Be careful out there!