In addition to its flagship products, LogMeIn also runs Join.Me, a free service that you can use to share your screen with someone at another location so easily that it will amaze and delight you. I've written about Join.Me before but it deserves to be called out again; it should be one of your basic and frequently used tools.
When you go to https://join.me and click the Share button, it will take only seconds to install a small control that will run the session. It's temporary – no program is installed in the traditional sense and no permanent change is made to your computer. There is no registration and no password to remember.
When Join.Me is running, you'll have a small toolbar at the top of your screen with a nine-digit number. When you're on the phone with someone and you want to share your screen, give them the nine-digit number to fill in on the Join.Me web site next to the Join button. Within seconds – really, you'll be amazed – they'll see your screen.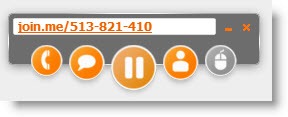 There is simply no easier way to give someone a look at what you're working on. There are simple controls on the tool bar that allow you to open a chat window, pause the screen sharing, transfer files, and give control of your mouse to one of the participants. (You can always get it back.)
LogMeIn has an unblemished record for security. When the session is over, the software erases itself from each end. If you forget to close the toolbar at the top of your screen, the code stops working within a few minutes anyway so you're in no danger of accidentally giving someone access to your computer when your back is turned.
Join.Me can easily be used for meetings – multiple participants can view simultaneously and there is support for conference calls by phone or VOIP. If you're serious about meetings, there is a Pro option for $19/month that adds a meeting scheduler and some enhanced user management.
Join.Me works on PCs and Macs. Since the sessions are Flash-based, it would not work on Apple devices for a while. Now that's been addressed: there is a free Join.Me app in the Apple store that allows Join.Me sessions to be viewed on iPads just as easily as on a computer screen. (There is also an Android app but it's unclear who would use it more than once – no one has ever purchased an Android tablet, ever, to the best of my knowledge. I pity anyone trying to view a computer desktop on a teensy iPhone or Android phone screen.)
If you have any questions, they are likely answered in the FAQ, but don't stress about the details. Just try it. It's remarkable. Go forth and collaborate!
[If you use Bruceb Favorites as your home page, you'll find Join.Me listed under Web Services / Cloud Services.]