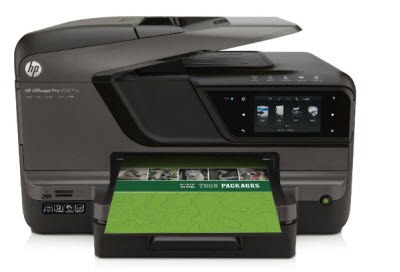 After some research, I settled on HP's new OfficeJet Pro 8600 Plus to replace an aging inkjet printer and defunct flatbed scanner. My early impressions are good. Here are some of the reasons it's a good fit for me (and might or might not be good for you).
The fundamentals are all there, better than previous generations. In fact, the OfficeJet Pro 8600 Plus looks a lot like HP is making a serious effort to respond to people's complaints and come up with something new and satisfying.
Printing is surprisingly fast – pages spit out more like what you'd expect from a laser printer than an inkjet. Color photos on glossy paper come out just fine – I print photos infrequently, so I don't need anything better. HP claims that this model reduces the cost of ink per page but I can't evaluate that yet.
Scanning is frequently the biggest disappointment with all-in-one devices, almost always so slow that it's effectively unusable. The OfficeJet Pro 8600 Plus does not hold a candle to Fujitsu's ScanSnap S1500, which sucks pages through at a blinding rate and is still the only scanner that most busy offices should consider. For lightweight scanning, though, the OfficeJet is a step far ahead of other all-in-ones and seems quite usable. The OfficeJet has the built-in ability to create PDFs and drop them in a network folder, so scanning can be done from the simple controls on the touchscreen on the device. It also installs a standard TWAIN driver that Adobe Acrobat can use to control the OfficeJet directly. When Acrobat handles scanning, it automatically does OCR on the scanned image to make the text searchable, and it's a more natural process to give the PDF a useful name and store the file where it should be.
Faxing is included but HP uses the touchscreen instead of building in the unsightly keypad that sits ugly and unused almost all the time on most all-in-ones.
Two-sided printing, copying and scanning is an unexpected bonus. Nothing extra to set up – it just does it.
Fast start-up, too. The printer falls into a sleep mode that uses little power but wakes up quickly when a print job is sent. The "first-page" delay is one of the printer statistics that is usually concealed because many fast printers require as long as 45-60 seconds to get the first page into the tray after being asleep. When the printer in my office is asleep, I get the first page in the tray about 20 seconds after I hit Print.
---
MODELS 
There are three models of the OfficeJet Pro 8600. The least expensive is half the cost of the "Plus" version and has a smaller touchscreen and less robust document feeder. It might be fine but I worried about the document feeder, since I am particularly irritated by slow scanners. Perhaps it's the same speed as the Plus model, just smaller capacity. Maybe. I didn't want to find out.
The Premium model adds a second paper tray for another thirty dollars or so. As it happens I don't need that; perhaps you do. Personally I've always been defeated by second paper trays. There is probably some way to make a print job take envelopes from the second tray, or take the first page of letterhead from one tray and subsequent pages of blank paper from the other. I would admire people who figured out how to do that. I've never met any.
Envelopes and special paper aren't easy to use without the second tray. On the OfficeJet Pro 8600 Plus, the paper tray is the only method of feeding paper. Envelopes or 4×6" photo paper can't be fed in on the fly. The paper tray has to be unloaded and paper guides adjusted before the printer will pull an envelope through. That might be a problem for some offices that want to have envelopes available all the time. I can live with that limitation easily.
---
SPECIAL FEATURES
This is where my conservative nature comes into play.
WIRELESS PRINTING  The OfficeJet Pro 8600 can be connected to your home or office network with a network cable. All the computers in the office then have equal access to it for printing and scanning. (It can also be connected with a USB cable but a network cable will be a better choice and give you more flexibility if you have more than one computer in the office.)
Theoretically it can also be set up for wireless printing – the printer sits in the middle of the room not plugged into anything except electricity, connected instead to your office wireless network. I'm sure that can be set up successfully but I don't intend ever to find out. My previous experiences with wireless printers have frequently been ugly. Wireless technology is fabulous and wonderful and science fictional, sure, but it will also cause you heartbreak and tears. The printer will lose its wireless connection at exactly the moment that you're printing something on a tight deadline.
Now, you know me – I'm cynical and cranky. Maybe it will work perfectly because wireless printer technology has improved to the point that connections are rock solid! Yeah, that's it! Also, maybe that was a flying unicorn outside my window.
HP ePRINT  HP is very proud of its online service that will assist you in printing from a mobile device or from a remote location. After you sign up and configure the printer, you can email files as mail attachments to a special email address monitored by the printer, or use a smartphone app to send a print job to the printer.
Whenever we see a new feature that accomplishes something that could never be done before, our natural inclination is to assume we don't need it. I consider it to be my job on your behalf to get past that. I try to look forward to guess how useful something might be after getting through the learning curve.
No matter how many times I do that, I can never imagine any scenario where I would print something from my phone, or print something on the printer in my office from my notebook in a different location. Never. This leaves me completely cold.
HP PRINT APPS  HP has partnered with lots of big companies to produce special apps for your printer that do something vaguely related to printing – "specially formatted web pages that print swell" or something. It's an impressive list: Disney, Fandango, Coupons.com, USA Today, Martha Stewart, Yahoo, quite a long list of big companies that have an insatiable hunger for access to your email address. Many of them are designed to let you browse content and print items directly from the miniature touchscreen on the printer instead of the 24" computer monitor across the room. Others can be set up to print content on a schedule so you don't have the pesky job of remembering that you want to print the entire contents of USA Today every day.
Words cannot express the horror.
This has little to do with printing and a lot to do with advertising. Fear for your browser home page and expect toolbars, popups, and spam if you walk down this road. And if I'm wrong about that and someone from HP wants to earnestly assure me that the print apps are pure and unsullied and it would never occur to them to put an unwanted toolbar on your computer, that makes the Print Apps merely pointless instead of pointless and intrusive, a fairly thin distinction.
APPLE AIRPRINT  The HP OfficeJet Pro 8600 printers support AirPrint, the technology that Apple cooked up for printing from iPads. I haven't set that up but I can imagine that it will be useful for some people. It might be a sufficient reason by itself for true iPad junkies to choose this model.
You can't print content displayed on an iPad unless an app is designed to allow that. The publishers of subscription magazines and newspapers aren't going to let me print articles from The New Yorker that easily.
Tomorrow: a look at the process of setting up the HP printer, with some info about the latest tricks from HP to install crapware.