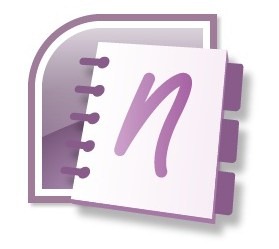 A few weeks ago Microsoft released a OneNote app optimized for iPads.
Long-time readers know about my fondness for OneNote, the program you've never heard of that's included with every copy of Microsoft Office 2010, right alongside Word and Excel and Powerpoint. Here's more information to get you oriented. To repeat: "The concept is simple: OneNote collects information on the fly from any source you can imagine, and helps you find it again later when you need it. That's any information. OneNote can hold your grocery list as easily as your research or trial preparation."
OneNote is designed for its notebooks to be stored online in Microsoft's Skydrive service. It's the only reason most people will use Skydrive; Microsoft's free online storage ought to be swell and Microsoft continues to work on it but it shows no sign of living up to its potential.
When you link to your online OneNote notebooks from different computers, the program syncs everything instantly and seamlessly. (Theoretically it's also possible to share online notebooks with other OneNote users but Skydrive's poor design turns sharing into a baffling exercise in frustration. I rarely see OneNote used for collaboration.)
The OneNote app for iPads follows a OneNote iPhone app by about a year. The app connects to the notebooks stored in Skydrive and displays them on the iPad with some tweaking to make them more finger-friendly. Not every OneNote feature is supported (no drawing, can't create new notebooks or sections) but on the whole it's a good piece of work, well worth a look by OneNote users.
There's an interesting twist. The OneNote app for iPads is free to install and can be used to view every note in every notebook for free forever.
But when you get to 500 notes, you'll be asked for money. It will cost you $14.99 to be allowed to edit your notes on the iPad if you sync more than 500 notes. Once you're over 500 notes, an upgrade notice appears instead of a keyboard when you tap on a note.
That's rather a lot for an iPad app, don't you think?
I synced my notebooks and went over the limit within the first thirty seconds after I installed it on my iPad. I could turn off syncing with some notebooks and get under the limit but that misses the point of OneNote.
The price caught the interest of Microsoft watchers, who speculate that Microsoft might be working on iPad sized versions of Word, Excel and Powerpoint that could give Microsoft a toehold in the tablet market. At that price, it's possible to imagine a respectable stream of revenue for the Office division, which seems to be a bit nonplussed by the rapid shift to mobile devices. There are some doubters who see OneNote as an interesting exception with no other apps to follow. Microsoft is staying mum.
If you're not using OneNote, read about it and watch the videos on the website and give it a try. If you're a committed OneNote junkie, try it on the iPad – but watch your wallet.