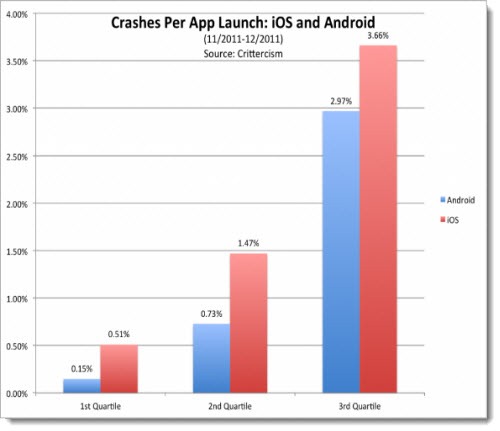 Previously: Technology Is Not Getting Easier!
Forbes published an article today that provides a nice postscript about new devices becoming more complex and cranky. Do iOS Apps Crash More Than Android Apps? A Data Dive is rich with details but the important lesson is that these simple, reliable devices in our pocket crash all the time. It's not just you.
The details are interesting and the article is loaded with pie charts that break down crashes on mobile devices in lots of ways. (Conclusions: apps on Apple devices crash slightly more often than Android apps, but data from the end of 2011 might have been skewed by the release of iOS 5, which required a fair amount of rewriting for apps to work reliably. The pendulum might swing as Google rolls out Android 4.0 this spring.)
When you list the various reasons that apps crash, it's easy to see the fragmentation that is making our technology world less reliable. Excerpts from the article:
"One of the reasons for crashes is the proliferation of mobile operating systems on iOS and Android. As Apple and Google have released more new operating systems, each with multiple updates, app developers face more operating systems to test apps on. In data that mobile app monitoring startup Crittercism compiled for crashes between December 1 and 15, there were at least 23 different iOS operating systems that crashed and 33 Android operating systems that crashed."
"On the first question of why apps crash, the reasons are many, says Crittercism CEO Andrew Levy. This can be due to hardware issues, such as the use of location or GPS services or cameras; it could be due to the Internet connection, that is, how a phone connects to 3G or WiFi, or that the device is not connected to the Internet at a certain moment, or that something happens during the switch between 3G and WiFi. There could also be issues with language support on certain devices. There can also be memory problems if an app uses too much memory."
"Problems can also occur with third-party services that developers use in their apps, from analytics to advertising systems."
"In addition, developers also constantly create new updates to their apps to create new features or fix bugs. But again, people often don't update their apps–just as they don't update their operating system."
Next time you restart your phone, go with a resigned shrug instead of anger. You're not alone.