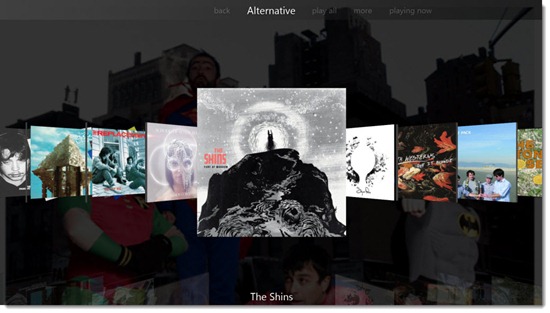 JRiver Media Center 17 is a Windows program for music and video. You can try it for free for 30 days. It costs $49.98.
Most of you don't need it. There are some advantages to using iTunes, especially if you have an iPhone or iPad. It's simple and you're used to it. If you're happy with iTunes, keep using it.
JRiver Media Center is suited for people who have a large music or video library and are willing to spend some time learning their way around. In the last few years, JRiver has focused on audiophiles – a notoriously picky and disputatious group – and many people believe it is now the best program available for playing bit perfect audio on high end equipment. It's not just for audiophiles! I think it's the best media program across the board for anyone who wants to get away from iTunes.
If you install it, it will automatically import your music (including your iTunes library). You can begin using it right away. It's not difficult to get started. There is a wealth of documentation, including this "Getting Started" page.
Recently a long article was written for Computer Audiophile about JRiver Media Center 17. It starts with a number of ways to customize and simplify the program that might be of interest to anyone using the program, then has a lot of details for audiophiles only. Conclusion: "There's no such thing as a perfect piece of software. JRiver Media Center version 17 may not be perfect but it reigns supreme as the playback application by which all others should be judged."
There are a rather extraordinary number of things that can be done with JRiver Media Center. You can get the idea by looking around the web site and reading the newsletter about recent changes and improvements. Everyone will use different things. Let me give you an idea by explaining some of the ways I use the program.
I've always been obsessive about my music collection. (My cassettes had typed labels and I filed them alphabetically.) I've got 48,000 songs in my digital library. Every one is tagged correctly with genre/artist/album/song title, and they all have the correct cover art. That takes time and attention to detail, and it can only be done with a program that handles audio files efficiently. JRiver Media Center is the best program available for file management and tagging.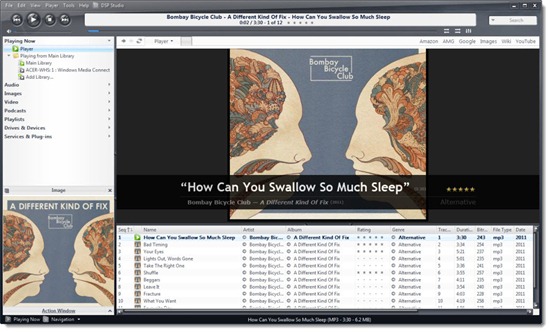 I use it to play music on my computer, of course. I'm not an audiophile but I have nice Logitech Z906 5.1 speakers and Sennheiser HD595 headphones. Sound quality is excellent. I use JRiver controls to balance the sound among the speakers and do some equalizing. Audiophiles can hear the difference right away between JRiver Media Center and iTunes even on equipment like this.
JRIver has also been working on technology that allows JRiver Media Center to play videos in a large variety of formats without having to install and configure a confusing array of third-party codecs. Anyone who has wrestled with video will understand the appeal of a program that will play almost anything thrown at it without any difficulty.
My computer runs JRiver's Media Server, a small built-in DLNA component serving up my entire media library – audio, video, playlists. In my living room is a media PC that displays JRMedia Center's Theater View on the TV. It is always up to date, using information from the media server upstairs. The interface is designed to be used with a remote control from across the room. I bought a remote control but it's now possible to use an Android phone or iPhone as a remote control. JRiver's Theater View is also connected to my Netflix account so I can use it to play anything from the Netflix Instant Play queue.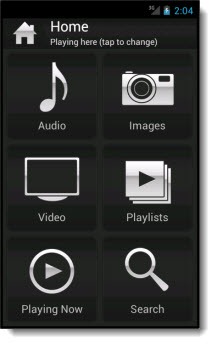 My Android phone runs Gizmo, a JRiver app that plays my entire media library on my phone, over the Internet, anywhere. That's all my music and playlists, anywhere the phone has an Internet connection. I had to open up a firewall port and do some brief configuration in the program, not much more. It's now also possible to watch video with Gizmo; many of the kinks have been worked out to do the conversion and stream video to Android.
From my laptop I can run JRiver Media Center and stream anything from my home library. Now, though, I can do the same thing from any computer, whether or not JRiver is installed, by using WebGizmo, a web interface that can be reached from anywhere.
Here's what it boils down to: JRiver Media Center does more for me than any other technology I own. I could live without Outlook. I could live without a smartphone. If I had to choose between giving up a web browser and giving up JRiver Media Center on a desert island, I'd be hard pressed.
If you take your music and video collection seriously, you owe it to yourself to take a look at JRiver Media Center. Making a change is never easy but the rewards might be worth it. If you've used JRiver Media Center in the past, you should know that the improvements in the last couple of years have been deep and impressive – spend money on an upgrade to JRiver Media Center 17.