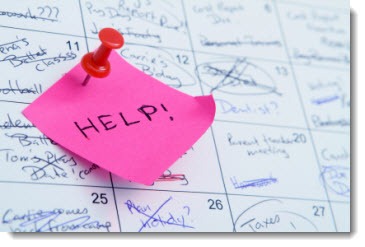 Syncing your data among your computers and mobile devices is going to be the source of much frustration and gnashing of teeth over the next couple of years. You're going to want to set things up very carefully to avoid nasty side effects.
Your digital life is getting more complicated. iPhones and iPads and Android phones want to be helpful by syncing everything in all directions. That turns out to be a complex thing to do.
Let's say you have a single email address. Perhaps it's your business address, run by Office 365 or your office Exchange Server, and you use it for all purposes.
But that's not all you have. When you got your Android phone, you had to set up a Google account with a Gmail email address before you could use the Android Market. (Oops, I mean, "Google Play.") When you got an iPad, you set up an Apple ID, which might or might not be linked to your business address. Microsoft might have a Hotmail or Windows Live account with a different address controlling access to Skydrive or other Microsoft services. Not to mention that if you're like many people, you might have a separate email account that you consider to be your "personal" address in addition to your business mailbox.
You might not use them but each one of those has an address book and a calendar associated with it.
Exchange users think it's straightforward. Your Exchange mailbox has a Contacts folder. Outlook users think of it as their primary address book. Exchange is the closest thing there is to a universal platform, so your Outlook contacts are synced to your phone. So far so good.
By default, your Android phone thinks you're using Google Contacts. The phone starts to sync with Google Contacts and keeps it up even after you connect the phone to your Exchange mailbox.
Your iPhone has its own address book under "People." When you set up iCloud, it will start to sync your phone contacts to your Apple iCloud account – but not all of them, as you'll see in the next article.
Each mail account that you add to the phone leads it to think that you have another contacts list and another calendar and it starts syncing in a way that might or might not be predictable.
In your mind, it seems easy. When you add a contact to your phone, you know you want it to sync with Outlook.
The person next to you wants the contact synced with Google Contacts, not with Outlook.
The person on the other side wants the contact synced with iCloud into Outlook but to the personal contacts, not the business mailbox.
The person across from you wants contacts on the phone and doesn't want them syncing anywhere.
Each of you thinks it's obvious what ought to happen when you enter a name and address on the phone. The reality is that you have to pay attention to where your information is going.
A couple of anecdotes will show you some of the ways it can go wrong.
A client routinely entered new contacts into his iPhone. He believed the information was secure because his phone was syncing with the office Exchange Server. After he lost the phone, he looked in the Outlook Contacts folder and saw with dismay that months of entries had not shown up because the phone didn't think the Exchange mailbox was the default location for contacts. iCloud wasn't set up. Data was lost.
A friend turned on iCloud and installed the Outlook add-in. In the course of trying to figure out what in the world was going on, she wound up with her contacts doubled and tripled and quadrupled back and forth between the phone and Outlook. We're still trying to sort it out, weeks later.
More than one client has dealt with syncing that appears to go only one direction – appointments in Outlook show up on the phone, but appointments entered on the phone never make it back to Outlook. Or vice versa, or some variation on that theme, or something inconsistent.
If you're syncing contacts and appointments with an iPhone, Android phone, or iPad, let me give you some general pointers, then go through some specific information about iCloud and Exchange in the next article.
Keep it simple. Don't add an account on your phone unless there's a specific reason for it to be there. Each account has a setting to turn syncing on or off for mail/contacts/calendar. If you value your sanity, set only one account to sync contacts and appointments, and make sure syncing is turned off on the other accounts.
Check the default location for saving items on your phone. If you're syncing your Exchange mailbox, for example, make sure that contacts and appointments are set to be synced with your Exchange mailbox by default. On an iPhone the default can be found in Settings / Mail-Contacts-Calendar.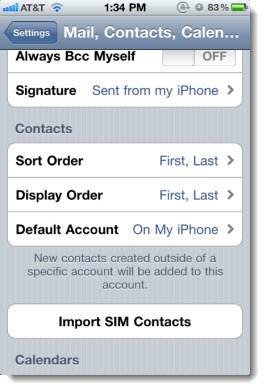 There's no telling where that setting is on Android phones. It might be in Contacts in Menu / More / Settings, or it might be somewhere else, or you might have to remember to look at the location for each contact as you're entering it.
Make sure it's working. Enter a contact and appointment on your phone and see if it eventually gets anywhere else you expect it, and vice versa. Don't wait to do that until it's too late and you discover there's no easy way to transfer hundreds of contacts or months of appointments!
In the next article I'll give you some specific information about iCloud and Exchange.