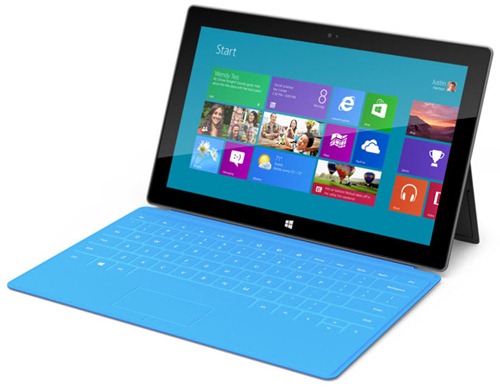 Microsoft announced today that it will be selling two new Windows 8 tablets under its own name, taking on the iPad and competing with its own partners, the manufacturers who will be distributing their own Windows 8 tablets in the fall.
A lot of details were made available about the Microsoft Surface tablets and a few questions went unanswered. The first one, due in October, will be similar to an iPad, running the ARM processor-based version of Windows 8 that runs Windows 8 apps but not most current Windows programs. The second one, due at the beginning of 2013, will be something that doesn't exist right now, a tablet that is fully capable of being used as a computer: built on a more powerful Intel processor, slightly thicker and more expensive, and able to run any Windows program.
The announcement caused a media frenzy in Los Angeles because absolutely no word of these devices had leaked ahead of time. They've reportedly been in development for three years by a group working in something like a sealed windowless room.
The tablets have two unique features:
An integrated kickstand that sits flush when closed and holds the tablet at the right angle for viewing when open.
A smart cover that attaches magnetically (think Apple's iPad cover), but which includes a full keyboard when it's opened up. You can see it in the picture above. The less expensive tablet has a pressure sensitive keyboard that Microsoft claims will be smart enough not to stutter out keystrokes when your fingers rest on it. The more expensive tablet has an actual touch keyboard with keyswitches built into it which somehow is still thin and light.
The keyboards might make the Surface tablets more appealing to businesses than the iPad. The upper end tablet is clearly intended to be a thinner, lighter alternative to an Ultrabook or MacBook Air.
The first impressions from people who got to hold each tablet for a couple of minutes were positive – well engineered, elegant, innovative. The tech press is buzzing about something that doesn't happen with Microsoft very often: it has introduced something that is simply different than anything else out there. No one is sure whether Microsoft is filling a need that people don't realize they have, as Apple did with the iPad, or whether Microsoft will accomplish very little except angering its partners. Perhaps it will be a welcome kick in the pants for the other manufacturers by raising the bar for design and innovation in the entire Windows 8 tablet market.
The unanswered questions? Price. Battery life. Screen resolution. The usability of the keyboard.
This just touches the surface. If you're interested, this is an overview of the Microsoft announcement, and this is a nice summary of the good points and unanswered questions. There are more photos here.
It's only the beginning. We're embarking on a dizzying six month ride!