When Microsoft Office 2013 is released early next year, it will cap off an exhilarating period in which Microsoft is showing an unexpected willingness to reinvent its entire product lineup to address new tech realities.
It takes time to understand just how thoroughly the Office lineup has been re-engineered but let's start with a reassuring note. The Office 2013 programs will look and work very similarly to the Office 2010 versions. Many things are changed but there is nothing as jarring as the introduction of the ribbon in Office 2007. Don't panic!
The fundamental change in technology for businesspeople is the shift to multiple devices used in multiple locations, instead of dependence on a single work computer. Businesses of all sizes are absorbing smartphones, tablets and notebook computers, and you are quickly coming to demand and expect that you can work from home computers or public computers.
Every aspect of Office 2013 addresses that new reality. It reflects brilliant, insightful work to create a product that looks forward, not backward.
---
CLOUD STORAGE
Before we get to the specific Office programs, think about your documents. Your documents are stored in your Documents folder. If you're an individual, the files are stored on the hard drive in the computer beside your desk. If you're a business, those files might be redirected to the server in the closet, along with the shared Company folders. Many of you have begun using Dropbox or a similar service to make some of your files available other places as well – other computers, your iPad, your phone.
Microsoft is building Windows and Office so that you can use Skydrive, its cloud file storage system, as easily as you use your Documents folder. By default, Office 2013 will open and save documents to Skydrive.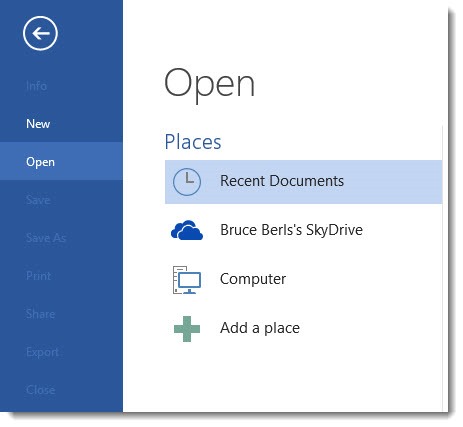 As with all of the changes, there are many details. Individuals will use an individual Skydrive account. Businesses will use a modified Sharepoint document library named Skydrive Pro for sharing and collaboration. Each will appear in Windows Explorer in exactly the same way that you work with your Documents folders now.
This is a key to the entire Windows and Office ecosystem. When you click on File / Open in Microsoft Word, you'll see your documents, regardless of whether you're working at home or the office, on your computer or your phone, on your notebook in a hotel room or a public computer in the hotel business center. It's intuitive and it matches the way people think things ought to "just work."
---
OPERATING SYSTEMS AND MOBILE DEVICES
Office 2013 will be available for PCs in February 2013, according to the most recent rumors. An interesting limitation: Office 2013 will only run on Windows 7 and Windows 8; it cannot be installed on Windows XP or Vista.
By that time, Office 2013 programs optimized for touchscreens will be running on Windows Phone 8 and Windows RT tablets.
Mac users will get easy access to Skydrive through an update to Office 2011 for Macs.
Although no official confirmation has been made yet, it is widely understood that Microsoft is working on versions of Office 2013 for iPhones, iPads, and Android phones and tablets.
All the versions of the programs share a consistent look and feel. The touchscreen versions of the Office programs are laid out similarly to the desktop versions, but ribbons and buttons are spaced further apart to reduce finger errors.
---
LICENSING
Microsoft will change the way you purchase Office to match the way you will likely use it.
Instead of buying an expensive license that can only be used once or twice, most individuals and small businesses will purchase a subscription for a few dollars a month. There will be various subscriptions marketed as Office 365 plans. An individual subscription, for example, will be able to be installed on up to five devices. If you have an office computer, a home computer, a laptop, a smartphone, and a tablet, you'll be covered by that one monthly subscription payment. Over time that will also cover upgrades to succeeding versions of Office – you'll automatically get whatever upgrades are released while you're a subscriber. There are business plans for multiple people and more devices.
Microsoft has not yet released info about pricing and the details are not yet clear. (Does the base plan cover five computers plus mobile devices, or a total of five devices?) But the concept is clear enough, and it exactly fits the way you're working today.
(Old-school purists are covered. Office 2013 can also be installed from a big .MSI file, just like previous versions of Office. The subscriptions will be optional – but I expect them to be appealing, too.)
---
INSTALLATION
Office 2013 can be installed on your hard drive just like every other version of Office. Rather than buying it with a new computer, it's likely that you will install it after the new computer arrives; Microsoft calls its new online installer "Click To Run" and promises a faster and smoother Office install than ever before.
There will be another option. Office On Demand uses rather extraordinary technology to deliver full, working, up to date Office programs to your screen within ninety seconds after you click an online link. Behind the scenes, Microsoft is using new application virtualization technology in a way that is light years ahead of anyone else. Here's an article with more details about App-V delivery of Office.
An example of why that matters: "Office On Demand" will allow you to install roaming copies of Office programs  for temporary use on computers that do not have the full version of Office installed. When you're done, the program will disappear smoothly and quickly.
---
OFFICE WEB APPS
The online versions of Word, Excel, and Powerpoint are finally being improved; in particular, the online version of Word should do a far better job of representing formatted documents. If your documents are stored in Skydrive, you'll be able to open them and work on them in Office Web Apps regardless of whether Office is installed on a device.
Microsoft's online apps can open and save documents and spreadsheets with 100% fidelity to Office file formats. There are steady improvements in the ability for multiple people to collaborate simultaneously on the same document, each person working in their own web browser.
There is more! You can get more information here, or by Googling Office 2013 – the tech press has been working overtime to absorb all the news. There is a preview release that can be installed right now but it's still rough around the edges, better for a test computer than for the machine you rely on for your work.
We'll have no shortage of things to talk about in the next few months!