I am happy to announce a major update to Bruceb Cloud Backup, now offering monitored online backups for small businesses and home offices with increased storage and lower prices plus new features and improved, easy-to-use software. One thing hasn't changed: it's monitored and supported by Bruceb Consulting, and I'm dedicated to protecting you and your data.
All the details are here. If you've been considering online backups, this is the service you've been looking for! Drop me a note and I'll set up a free trial – it takes no time to get started.
Here are just a few of the highlights.
INCREASED STORAGE  Plans start at 25Gb and go up from there.
LOWER PRICES  By switching to Amazon's secure S3 storage network, I'm able to cut the monthly storage cost per gigabyte nearly in half. There is a one-time charge to license the software, then inexpensive monthly charges to store the data. This is less expensive than Mozy's and Carbonite's business plans – and they don't have Bruceb Consulting monitoring the backups and making sure things go smoothly. Pricing info is here.
ACCESS BACKUPS ANYWHERE  Every subscriber has browser-based access to their files from any computer, any time, by logging in at http://backup.bruceb.com.
IMPROVED SOFTWARE  The backup program on your computer is easy to set up, easy to understand, and easy to restore files.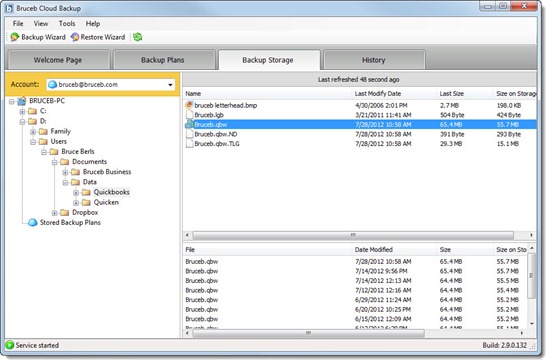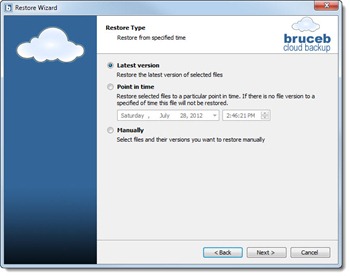 INTEGRATION WITH SMALL BUSINESS SERVER 2011 ESSENTIALS  The new software integrates into the SBS 2011 Essentials dashboard, making it accessible from any office computer in an SBS network.
LOCAL BACKUPS INCLUDED  Attach an external hard drive and Bruceb Cloud Backup can handle your local backups, too – no extra charge, no limit on storage space.
Bruceb Cloud Backup v.2 is powered by software from Cloudberry Lab. Your data is transmitted using secure socket layer (SSL) technology and stored in Amazon's reliable, flexible and secure Amazon S3 service.
I love this service! The software is elegant and the developers are adding new features at a rapid clip. I've gotten great support from them when I've needed it, too. Amazon S3 is affordable and secure, which lets me get the price down to the right level.
Your business depends on your data. Even if you've got other backups, add an important layer of protection and get those valuable files offsite, where they are safe from disaster. Call me or drop me a note and let's get you set up with Bruceb Cloud Backup today!