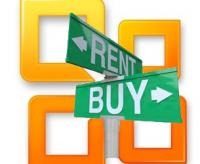 Microsoft announced pricing for Office 2013, due to be released early next year. When you upgrade Office or get a new computer, you'll choose between starting a subscription for an Office 2013 license or buying it outright as you have in the past, and you might be surprised – the table is tilted firmly in favor of a subscription from almost every perspective, including price, flexibility, upgrade rights, and features.
---
BACKGROUND
Almost everyone acquires Microsoft Office for their Windows computers. Even home users need a word processor sometimes, and offices require at least the core programs: Word, Excel, Outlook, and Powerpoint.
If you've ever purchased a computer from a brick and mortar store, Best Buy or Staples, say, then you know the sinking feeling when you discover that Office has to be purchased separately. Out comes the wallet for another $125 for the Home & Student version without Outlook, or a couple of hundred dollars for the Home & Business version with Outlook.
Small businesses buy Office preinstalled by Dell for a couple of hundred dollars for each new PC. Larger businesses pay roughly the same amount but they get volume licenses and install it themselves.
There are strict limits on those licenses. The license from Dell is locked to a single computer, never to be used again – it can't be installed again on a second computer, it can't be transferred to another computer if the first one dies. The license with the boxed version of Office 2010 Home & Business can be activated twice. The license with the boxed version of Office 2010 Home & Student can be activated three times. There are slightly less expensive variants that only permit a single activation.
It gets expensive quickly. The cost is sometimes hidden from view, not broken out on the Dell invoice and not included in the price listed in the Best Buy advertisement, but it's a big part of a computer purchase. It was a little daunting to look ahead to the time when we are likely to be buying more devices than ever.
Enter the subscription.
---
OFFICE 2013 SUBSCRIPTIONS
Subscriptions to the Office programs will be marketed under the Office 365 name. Two subscriptions are described in Microsoft's announcement.
Office 365 Home Premium  For $100/year, you can get a "household license" for Office 2013 that can be installed on up to five PCs or Macs, used by anyone in the family.
You can change the devices at any time, as well as using Office programs temporarily on any computer that does not already have them installed.
All Office programs are included: Word, Excel, PowerPoint, OneNote, Outlook, Access, and Publisher.
The subscription also includes 20Gb of additional Skydrive storage and 60 minutes of Skype calls to phones worldwide.
Office 365 Small Business Premium  For $150/year, a single user will be able to install all the Office applications on up to five PCs or Macs.
This subscription is tied more closely to a particular person's account. However, once the programs are installed on a computer, anyone logged into that computer can use the Office programs as long as the original subscription is maintained. A business that buys subscriptions for employees could allow the employees to install Office on their home computers and everyone at home would be able to use the programs. The employees could also install it on their laptops and tablets in addition to the office workstation.
The Small Business Premium subscription includes an Exchange mailbox and other hosted Office 365 services. It's currently possible to get Office 2010 Professional Plus subscriptions through Office 365 for $12-$15/month, but that's in addition to the other Office 365 charges for hosted Exchange mailboxes and Sharepoint. It appears that the Office 365 Small Business Premium pricing ($12.50/month for everything) is a substantial reduction in the cost of Office 365 services for very small businesses. There's no word yet on how this affect current Office 365 subscribers.
Businesses will be able to use shared online Skydrive file storage, making it easier to have access to business documents from any computer or tablet, anywhere. That will also open up use of the browser-based versions of the programs, Office Web Apps, which will be included in the Office 365 Business Premium subscription.
---
OFFICE 2013 PURCHASES
If you're suspicious of subscriptions, you'll be able to purchase a license for Office 2013 just as you do today, but you'll find that the rules have been changed to make it less appealing.
The list price of each of the Office 2013 products has been increased. More dramatic, though, is the way the licenses have been locked down. When you purchase a license for Office 2013 Home and Student or Office 2013 Home and Business, it can be installed and activated once. Not twice, not three times – one computer, one Office license, one activation.
The math gets very complex to figure out whether a subscription or a purchased license is more expensive. Pull out a spreadsheet and calculate whether you're likely to get another computer or notebook or tablet in the next three years, add the possibility that you might want the next version of Office in a year or two (included with the subscription, not with the purchased license), divide by the number of years you'll use the subscription or license, take the square root of the extra features included with the subscription, and multiply by the only important factor, which is whether you're the kind of person who simply can't tolerate the thought of not "owning" the programs.
The Office 365 features and pricing are compelling for everyone except the most subscription-averse. The flexibility fits the new environment with ever-multiplying numbers of computers, laptops and tablets. It's a good deal for consumers and a no-brainer for small businesses.