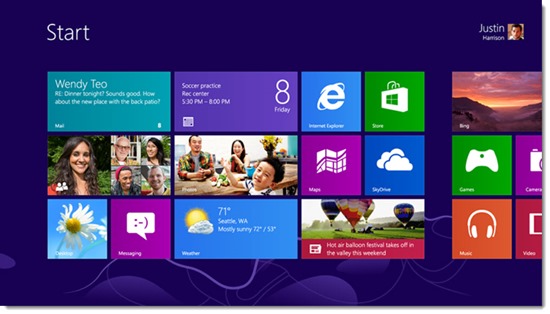 Windows 8 is a term that will be used to refer to several different things. It is the next operating system for Windows computers, but you'll also see the name used loosely to describe a tablet operating system, a phone operating system, the environment for apps that run on those different platforms, and the design aesthetic that Microsoft is using for the operating systems, for apps, and for its online services.
Let's start to unravel it. There's a lot of information here and it's at the heart of what you need to know about Windows 8. Get some coffee and dig in!
---
START SCREEN AND DESKTOP
The most distinctive feature of Windows 8 is the Start Screen that replaces the Start menu. The Start Screen (shown above) will look the same on all Windows 8 devices, with its distinctive colored tiles, many of which are constantly updated with new information – messages, appointments, the weather, the latest photos. It is the look and feel of the Start Screen that you will associate with Windows 8.
Many of you will see Windows 8 for the first time on a desktop computer rather than a tablet or phone and you will be focused at first on the differences between it and Windows 7. At first, 99% of your time on a Windows 8 computer will be spent on a desktop that is virtually identical to Windows 7, in an environment that has been designed to be compatible with all Windows 7 devices and programs. Although there is no Start menu, a small amount of preparation and training will have you working just like before, perhaps even wondering what the fuss is all about.
Keep that in mind as we talk about what's different about Windows 8 because in fact it is profoundly different from Windows 7 and the desktop will diminish in importance as time goes on.
---
WINDOWS 8 IS A MOBILE OPERATING SYSTEM
Windows 8 is a new mobile operating system. It has been written from the ground up for mobile devices with touchscreens. The desktop that you will use to run traditional Windows programs on desktop computers is a legacy – carefully left intact and included for comfort and compatibility but definitely not the component that addresses the needs of people with mobile devices.
Think about the operating systems offered by Apple and Google.
Apple has two different operating systems – OS X for computers, iOS for iPhones and iPads.
Google has Android, which is limited to phones and tablets.
Microsoft is responding with Windows 8, which can run on phones and tablets as well as all sizes and types of computers.
If you understand how Windows 8 was developed, it will help you understand why some familiar controls have been changed. Microsoft did not start with Windows 7 and just scale it down so it more or less works on a tablet and phone. Instead, it designed Windows 8 from the outset to work best with touchscreens on handheld devices and only then scaled it up to include a familiar environment for people used to Windows 7 and to include keyboard and mouse controls.
Windows 8 introduces a world of apps with simplified interfaces, designed for full-screen display and operated by touch. That's what you're used to on your smartphone and iPad. Windows 8 will offer the same environment of full-screen single-purpose apps on your computer – but one of those apps will be the desktop where you will spend most of your time, running the same programs you run on your Windows 7 computer today.
---
THREE FLAVORS OF WINDOWS 8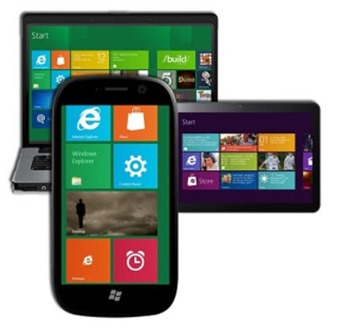 Although they share a great deal of code, there are actually three different flavors of Windows 8. This will cause some confusion but it's an unavoidable side-effect of the three different types of hardware that are in the market now.
WINDOWS PHONE 8
A separate team at Microsoft has developed Windows Phone 8, the smartphone version of Windows 8, which has to live within the restrictions of a 4-5" screen. We have unique expectations for smartphones as they become our primary social devices as well as handling a vast array of services related to GPS and our location, photos, and music. They're also likely to take over various functions from our wallet, handling small payments and holding travel documents.
Windows Phone 8 has the same Start Screen and interface as Windows 8 on tablets and computers. The apps will be as close as possible to the Windows 8 apps on bigger devices, with changes limited to what's necessary for them to work on a small screen.
WINDOWS RT
Almost all smartphones and tablets today, including the iPhone and iPad, run on ARM processors, because of their low cost, high efficiency, and extended battery life.
ARM processors are fundamentally different than Intel processors. Programs written for one will not run on the other.
Windows RT is a new version of Windows written to run on ARM processors. A tablet with Windows RT will be thin and light and should get extended battery life, at a price comparable to an iPad.
Windows RT is designed, quite intentionally, to look and feel exactly like Windows 8 on a traditional desktop computer but in fact the underlying code is quite different.
A tablet with Windows RT will have the same Start Screen and run the same full-screen apps as a Windows 8 computer running on an Intel processor. Consider a Windows RT tablet to be similar to an iPad but with more of an emphasis on productivity and business in addition to the usual Internet browsing, social networking, video, music, photos and more, and with the advantages of the Microsoft ecosystem for syncing your files, settings, music, photos and the rest.
A Windows RT tablet will also have a desktop with Control Panel, File Explorer, and other familiar utilities from the desktop version of Windows.
With one exception, though, Windows RT tablets cannot run any programs originally written for the Intel-based version of Windows on your desktop computer. Software developers are invited to write new versions of their programs that run as full-screen apps with a simplified Windows 8 interface, but you will not see the full version of Adobe Photoshop running on the desktop of a Windows RT tablet.
The exception is interesting. Microsoft has rewritten Word, Excel, Powerpoint and OneNote to run on Windows RT, and they will be included on all Windows RT tablets. They are not simplified full-screen apps, they are more or less exact replicas of the Intel versions of the Office programs.
At the moment, though, no third party has been offered the same privilege.
Although that sounds like a serious limitation, think about it for a minute. You don't expect all of your Windows programs to run on an iPad and yet you think iPads are swell. Windows RT tablets should offer a rich tablet experience with the bonus of syncing your files and your settings and giving you better tools for creating new content. Adobe and the other software developers have already begun to create tablet-sized versions of their programs. Web-based services will work exactly as they do on a Windows computer or an iPad or anywhere else. LogMeIn and other remote solutions will be there to display the desktop from another computer on the tablet screen.
Personally, I can't wait to get a Windows RT tablet.
WINDOWS 8
Finally we get to the product formally known as Windows 8, designed to run on desktop computers and notebooks built with Intel processors. It looks and feels just like Windows RT but it adds a desktop that is fully compatible with Windows 7 in all of its rich splendor, running all the programs, supporting all the devices, with no compromises.
Although I've been warning you about it, you're still going to be surprised by the variety of devices running on Intel processors hitting the market this fall and next year. The line will blur between computers, notebooks and tablets as hybrids appear with characteristics of each. Example: Windows 8 can be run with only a keyboard and a mouse, of course, but expect touchscreens to quickly become a standard component on notebooks and eventually to make their way to desktop monitors.
There will also be tablets with Intel processors and Windows 8 instead of Windows RT. At least at first they will be slightly thicker, slightly heavier, and battery life might not be as good as Windows RT tablets. They will also likely be more expensive than Windows RT tablets.
You will be able to install and run all Windows programs without restriction on a Windows 8 tablet. In other words, they will be more like a notebook with a 10 or 11 inch screen and a detachable keyboard.
Visually, Windows RT tablets and Windows 8 tablets will be virtually identical. It will be up to you to know the difference between them.
Don't overestimate the importance of being able to run traditional Windows programs. A Windows RT tablet might not be a complete substitute for a Windows 8 notebook but it might not need to be.
With that in mind, take a look at this picture from Microsoft's website for its new Surface tablets. There are two Surface tablets, a Windows RT version that went on sale yesterday and a Windows 8 version that will go on sale in January – slightly thicker, slightly heavier, more expensive.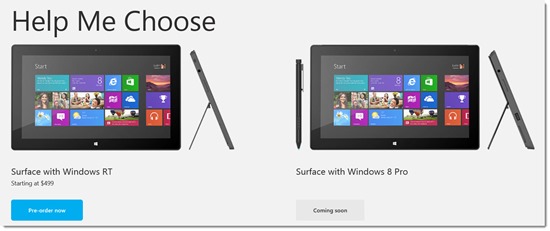 Obviously, they are identical in appearance and size. The important difference is the ability to run legacy Windows programs, and it will be up to you to decide whether or not that's important to you.
That's the big picture. Next we'll start to move in for a slightly closer look at the details, starting with the reasons not to be frightened because in the end, Windows 8 is simply identical to Windows 7.
---
Previously:
The Road To Windows 8
Windows 8: The Shift To Mobile Devices
Next: Windows 8 Is Exactly The Same As Windows 7