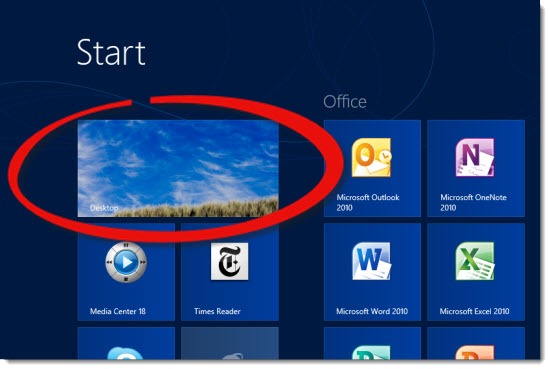 There is no shortage of guides for learning Windows 8 basics, starting with Microsoft's guide to new features. Here's an article that goes through the basics of the Charms bar, the Start Screen, switching apps and snapping them to the sidebar, printing from apps, and more.
Instead of writing a tutorial, I'll be giving you a series of tips that aren't as well known – settings that might make Windows 8 more comfortable and easier to adjust to.
Most of you will see Windows 8 for the first time on a new computer. Your immediate goal will likely be to make it as similar as possible to Windows 7, which will mean spending most of your time on the familiar desktop with the taskbar.
There is one simple but profoundly important change that I urge you to do on your first Windows 8 PC.
---
TIP
Find the "Desktop" tile on the Start screen and drag it to the top left position.
The top left tile is the default tile. When you're on the Start screen and you hit Enter, you'll go immediately to the Desktop.
Applies to: Windows 8 on desktop PCs and notebooks
Does not apply to: Windows 8/Windows RT on tablets or phones
---
The minute that Windows 8 starts and you see the Start Screen, hit Enter. Bang! You've bypassed the Start Screen and you're at your desktop. If you're in a full-screen Windows 8 app and want to go back to work, hit the Windows key to go to the Start Screen, then hit Enter. Bang! Back to work.
It will be easier to stay in the desktop if you put your most-used programs on the taskbar by right-clicking them on the Start screen, then clicking on Pin To Taskbar. You'll be able to run Windows 8 for days at a time without ever visiting the Start screen.
The urgency fades away as you become familiar with Windows 8. The Start screen becomes familiar, the full-screen apps turn out to be useful after all, it becomes natural to hit Windows key + C to bring up the Charms bar, and gradually it's not as important to dive to the desktop right away. Even then it's still easier to have the desktop tile in that upper left position because you'll primarily be using desktop programs on your computer for the foreseeable future.
Don't be afraid to get Windows 8 on your next computer! More tips to come.