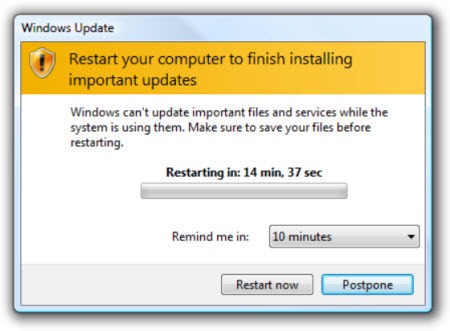 Almost everyone is aware that their computer will automatically restart overnight on occasion – and most people have dealt with the frustration of an unexpected shutdown that disrupts open windows or forces programs to close, at worst losing data along the way.
Restarts are necessary when system files are patched or files need to be updated that are in use when the computer is running. In practice, that means a restart at least once a month, and usually more often.
Microsoft's Automatic Update system is efficient and effective. Malware authors now target third party programs like Java, Flash and Acrobat because Windows is locked down tight and the fast distribution of updates keeps it that way.
Whenever possible Microsoft distributes security updates and patches on the second Tuesday of each month, now well known as "Patch Tuesday." Your computer will likely restart in a couple of nights after getting the March updates for Windows and Office (technically at 3am on Wednesday morning 03/13).
The bad guys are exploiting new vulnerabilities faster than ever, and Microsoft has been forced to step up its response times, so there will also be months when patches will be released on the fourth Tuesday. When something particularly scary appears, there might also be "out-of-band" updates released as soon as they are ready. Any of those might require a restart.
There is no realistic alternative to allowing your computer to be automatically restarted when required. Turning off Automatic Updates might seem less disruptive but it leaves you vulnerable to bad guys who have become very efficient in taking down unpatched computers.
---
Improvements in Windows 8 Automatic Updates
Microsoft has been trying to reduce the pain of unexpected computer shutdowns for years by making the regular Patch Tuesday schedule more predictable and reworking the patching system to make restarts less necessary. Windows 8 has an entirely new system to minimize the chance that a restart will disrupt your work.
Windows 8 does not automatically restart on Patch Tuesday. Instead, it puts a three-day warning on your login screen: "Windows Update / Your PC will restart in 3 days to finish installing security updates."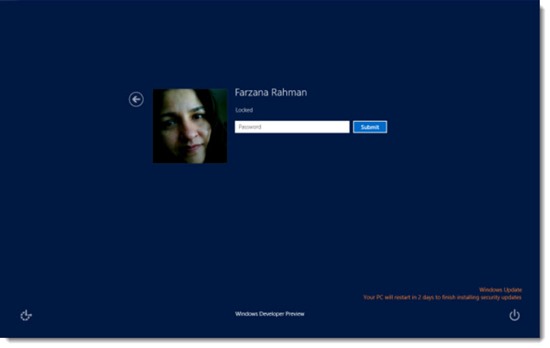 If you ignore the warning and do not restart for three days, Windows will restart automatically. Even then, however, Windows 8 will not restart if there is any risk of a loss of data. If your computer is locked, you have programs running, or you have any unsaved work, the computer will wait until you log in, then give you a fifteen minute warning. It means no restart will happen unless a human being is in front of the PC, with enough time to close open files and save work.

There are more details about the changes in the Automatic Update system and the effort to minimize restarts in this Microsoft blog post.
It's easy to let the new Start screen dominate your impression of Windows 8 but don't make the mistake of thinking that nothing else has changed. There are many nice improvements like this under the hood.
---
Restarts for third party programs and Bruceb Management
Unfortunately there is also a flood of security updates for third-party programs, from companies who are far more disorganized than Microsoft, and some of them also require restarts to finish installation.
Java is currently dominating the Hall of Shame, with another release of a Critical-Emergency-Sirens-Flashing Lights update last week. That's seven updates in something over seven weeks, if my count is right. (Although Java looks awful under this assault by the bad guys, it's worth remembering that this is nothing new. Adobe got the spotlight in 2009 with a horrendous series of bugs and clumsy updates. There will be others.)
Each Java patch has been directed to something being actively exploited by the bad guys, poisoned web sites that you could be led to by one errant click. It is not safe to install these updates only once a month. I don't even want to wait a week before you get them.
Subscribers to Bruceb Remote Management get security updates for third-party programs immediately after they are released. When those require a restart, the agent will restart the computer. There is no good way around that. You need the updates to be safe online.
I have changed the schedule for restarts for Bruceb Remote Management subscribers. Restarts will be limited to Tuesday, Thursday, and Saturday nights. (Since it is scheduled at 5am, technically it's Wednesday/Friday/Sunday mornings.)
If your computer is asleep or turned off overnight, you still may see your computer restart not long after you log in. Sorry! I have no good alternative.
The good news is that most updates do not require a restart. The recent flurry of Java updates has been an aberration . . . we hope.
As always, be careful out there!