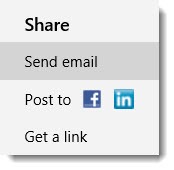 Previously:
The Difference Between A Microsoft Account And An Office 365 Account
Understanding Skydrive, Part 1: Skydrive vs. Skydrive Pro
Understanding Skydrive, Part 2: The Basics
Understanding Skydrive, Part 3: The Microsoft Office Connection
Microsoft has steadily improved sharing in Skydrive. Among other uses, it has become one of the easiest and most attractive services to use for sharing photos, and it is one of the best ways to deal with files that are too large to email.
The basics:
—  You can share any file or photo in Skydrive with just a couple of clicks from the Skydrive web site, from your computer, or directly from Office 2013.
—  You have control over who can see the shared file. The person you're sharing with will get a link to the file. They don't have to log in with a Microsoft account to see the file – unless you make that a requirement for extra security.
—  You have control over what the recipient can do with the file – viewing only or editing.
The next step is collaboration. You can give anyone permission to edit a shared file in Skydrive. The latest Skydrive improvements are designed to let you edit Office files with someone else simultaneously.
---
HOW TO SHARE FILES IN SKYDRIVE
There are links everywhere to help you share files in Skydrive.
Skydrive web site  Log into the Skydrive web site and look for the Sharing button at the top. You can choose individual files by checking the box for each one, or share an entire folder by clicking Sharing without clicking a particular file first.

You can also right-click on a file or a folder and find Sharing on the context menu.
Your computer  If you install the Skydrive app on your computer, right-click on any file or folder in Skydrive in Windows Explorer and click on Skydrive / Share.
Office 2013  You can share files directly from Word, Excel and Powerpoint in Office 2013 by clicking on File / Share. If the file is not yet saved in Skydrive, the program will help you put it there, then bring up the Sharing dialog.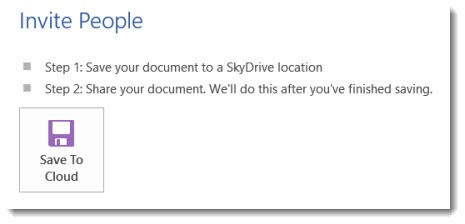 If the file is already in a Skydrive folder, you'll go straight to a dialog where you can either have the program send an email on your behalf, or create a URL that you can send separately.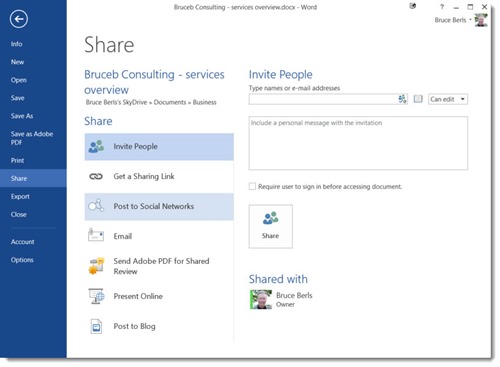 ---
ASSIGNING PERMISSIONS
When you share a file in Skydrive, the service creates a link to the file and attaches some security information.
The link looks like this: https://skydrive.live.com/redir?resid=7876C10FDD6417F3!3707&authkey=!AFAwBJbZ1AZQNSI
There is a Shorten button that will make the link less intimidating (and better suited to Twitter). The shortened version of the above link is: http://sdrv.ms/1024KX8  Click on the link to see what a photo looks like when it's shared in Skydrive.
There are some simple choices about the link when you create it.
— Can the file only be viewed, or can someone with the link edit the file?
— Can the file be viewed by anyone with the link, or is it restricted to someone who logs in with a specific Microsoft account?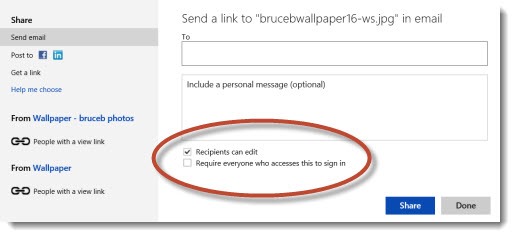 This is where you find the balance between convenience and security. It's more convenient if your recipients don't have to deal with logging into a Microsoft account – they might not have one. But if you send a URL that does not require logging in, it can be used by anyone who gets the URL. Your friend can forward the URL to others or post it on Facebook and anyone who clicks it can see the shared file. Frequently that's not a problem, but don't be taken by surprise.
Sharing links can be revoked or modified at any time, of course.
---
COLLABORATION
When you share Office documents and grant permission to edit the files, people can edit them in Office Web Apps without a Microsoft account.
This is a recent addition to Skydrive that makes it far more convenient for many users. (For security you can still restrict access to someone who logs in with a Microsoft account matching the invited email address. This is critical for businesses to understand! Don't share confidential information in a way that allows uninvited people to see it or edit it.)
Two people can work on the same file simultaneously in Office Web Apps – you and someone in another location can both open the same Word document or Excel spreadsheet or Powerpoint presentation and work on different sections at the same time. Elaborate precautions are taken to make sure the two of you don't interfere with each other.
At the moment, the two of you will only see each other's edits when the file is saved and your view is refreshed. Microsoft announced last week that real time co-authoring will be introduced in the next few months, so you can watch your collaborator's edits appear almost immediately in your copy of the file.
This is the area where Microsoft again leverages its ecosystem and includes features that Dropbox and Google cannot match. You can share files in Dropbox but the sharing options are not as polished and easy to use as Skydrive. Google encourages collaboration with Google Docs but cannot match the familiarity of the Office interface and the compelling need for businesses to stick with Office file formats for consistency.
It all makes Skydrive a compelling service for many of you, for everything from business documents to casual photos. It is a rapidly evolving service – the latest example came today, when Microsoft announced improvements in photo displays and faster photo upload speeds, continuing a steady stream of updates in the last year. Skydrive is one of the new things in the world that deserves your attention. Give it a try!