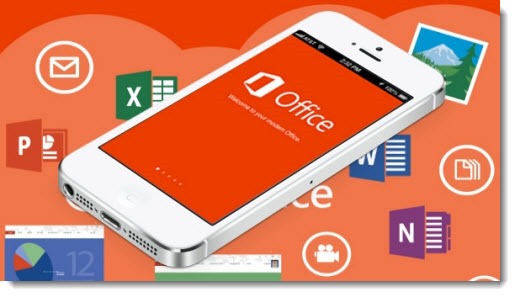 This morning Microsoft released mobile versions of Word, Excel, and Powerpoint for iPhone users with an Office 365 subscription. "Office Mobile for iPhone" closely resembles the Office programs included on Windows Phone 8 devices, allowing files to be edited and viewed with integrated access to Skydrive and full compatibility with the Office file formats.
This brings together a number of things that we've been examining in the last few months.
–  It's another step in Microsoft's change to make Office a subscription-based product. The Office apps for iPhone are only available to Office 365 subscribers with a subscription to Office Home Premium or Office ProPlus. Here's a description of the Office subscription plans. To be perfectly clear: Office Mobile for iPhones is completely free for Office 365 subscribers with an Office subscription – and it is not available for anyone else.
–  To install Office for iOS, you'll have to know the login credentials for the Microsoft account or Office 365 account that has an active Office subscription. Here's some information to help you sort out the two different types of accounts.
–  The apps are designed to work with files stored in Skydrive or Skydrive Pro. The experience of opening and saving files in Skydrive will be seamless and easy. Anything else will be difficult or impossible. Here's a description of Skydrive (and look for the followup articles with more Skydrive details).
There are some interesting details about the iPhone apps.
The obvious one is that Microsoft has not yet released Office programs for iPads or any Android devices. Today's announcement is for iPhones only. If you have an Office subscription, though, then you have access to Office Web Apps, which are optimized to present themselves nicely on tablets and Android phones. It's a surprisingly good experience, even without a dedicated app.
Today's release includes Word, Excel and Powerpoint. There is a wonderful OneNote app for iPhones and iPads that does not require an Office 365 subscription, worth seeking out for any OneNote user.
The iPhone apps are more or less identical to the mobile Office apps that are included on every Windows Phone 8 device. Paul Thurrott has a detailed breakdown of the apps to give you an idea of what they look like and how they compare. Ed Bott put up a slideshow gallery with more details.
With this release, Microsoft has added another category to the Office 365 subscriptions. With any of the Office subscriptions, you can install Office on up to five computers. Now you can also install Office on up to five mobile devices, which are counted separately from computers. When Microsoft releases Office for iPads and Android tablets – which it surely will but no one knows when – they will be counted as mobile devices, not as computers.
The Office world is changing fast and it's all for the better, making it more likely that Office will continue to dominate our business world on the next generation of devices. If you're not already a subscriber to Office, this may help get you closer to making that decision. Clients with Office 365 mailboxes should let me know if they want to start an Office subscription!