On Patch Tuesday this month, Microsoft released an upgrade to Microsoft Security Essentials, the security program used by just about everyone. The program itself is being updated – it's more than just new virus definitions – and it was supposed to be installed automatically with the other Patch Tuesday updates.
The update hasn't always been installed automatically. If you run into it, don't panic – it's a legitimate update that's safe to install. It only takes a moment and shouldn't require a restart. (If it doesn't call attention to itself, don't worry. You don't have to chase this down.)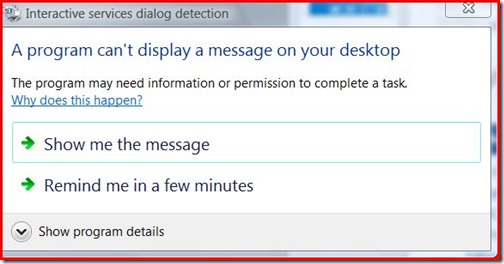 I've seen the above message displayed at random times on several desktops in the last couple of weeks: "Interactive services dialog detection. A program can't display a message on your desktop: The program may need information or permission to complete a task." Clicking on "Show me the  message" causes the screen to go blank with nothing but the Security Essentials upgrade wizard in the middle of the screen.
It's weird and spooky – more like malware than an installation program written by Microsoft. Normally I want you to be paranoid but this is a legitimate notice. Install the upgrade.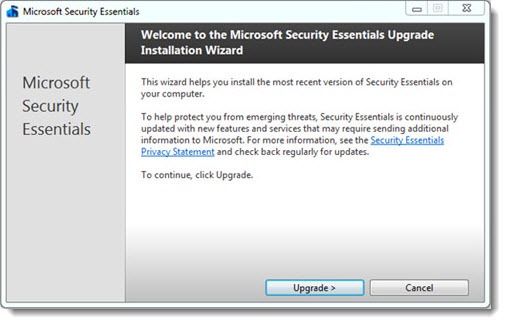 The upgrade is a bit of a mystery. I can't find any Microsoft description of this update. The update windows refers to KB2855265, which would normally lead to a Microsoft tech support document about the patch – but there's no document with that number. If you go to the Security Essentials download site, it shows that the current version of Security Essentials is version 4.3.215.0, which is the number shown on the update – but the web site has a date of February 26. Has this update been available since February and Microsoft only pushed it into the Automatic Updates channel this month? Normally that information is easy to find out but this one seems elusive.

WINDOWS 8  Windows Defender is built into Windows 8, providing the same security as Security Essentials. This update does not apply to Windows 8 computers.
BRUCEB REMOTE MANAGEMENT  Most of my clients subscribe to the Bruceb Remote Management service, where they see alarming red Xs on the weekly report when a patch fails to install automatically. The Security Essentials update has resisted every effort. Most of my clients have seen red Xs for almost every computer for the last couple of weeks. I was forced to restart hundreds of computers on Saturday night, trying to get this update to install, and the reports are still covered with red Xs this morning.
I'm forced to yank this update from the management service for now. I don't think you're at risk; Security Essentials will still protect you even if this upgrade is not installed. It does make it more likely that you'll have to install it manually. My apologies! I tried.