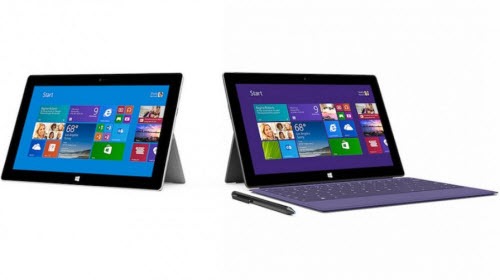 The landscape for tablets has been straightforward for the last year.
—  Apple supports a rich echosystem of apps with the 10" iPad and increasingly popular 8" iPad Mini, elegant and responsive and expensive.
—  Android is available on tablets from a number of manufacturers, with a slightly more Wild West feel to the ecosystem – lots of variety, sometimes a bit flaky.
—  Amazon quietly sells millions of its Kindle Fire tablets each year, running a highly modified version of Android built around the Amazon ecosystem.
—  And off to the side, Microsoft has offered the Surface RT and Surface Pro tablets, 10" devices with quite different personalities and price tags, but one thing in common: not very many people cared about them.
Things are going to change this fall, although it's entirely possible that when we look back a year from now, the end result will be exactly the same. So I'm not going to make any predictions about sales, just point out some of the products coming this fall that you might want to consider, starting with the next generation of Surface tablets.
Let's try an analogy to Apple's introduction of the new iPhones a few weeks ago. Apple announced two new phones that have no revolutionary new features or dramatic changes in looks. They are upgrades of the iPhone 5, nothing more, with some nice improvements around the edges. In response, people lined up outside Apple stores around the globe waiting for them to go on sale and Apple sold nine million phones in three days.
Last week Microsoft announced the next generation of Surface tablets. There are two new models that have no revolutionary new features or dramatic changes in looks. They are upgrades of the previous models, nothing more, with some nice improvements around the edges. In response – well, that's where the analogy is likely to break down, isn't it?
Things may change! The improvements in the less-expensive Surface may tip the scales to make it a contender. The Windows app ecosystem is getting stronger and Windows 8 devices are starting to be more widely appreciated.
If you want to jump to the details, you can find specs for the new Surface tablets here and prices here. They can be pre-ordered now and will be available on October 22.
The Surface 2 will start at $449. It is the newer version of last year's Surface RT with a new processor that should significantly boost performance, one of the shortcomings of the older model. Snappy performance, long battery life (10-12 hours of video), along with the improvements in Windows 8.1 – a nice combination!
Surface 2 is primarily a device for consuming media – watching Netflix, reading Kindle books, browsing the Internet, reading mail. It is a tablet that can fairly be compared to an iPad. It has a nice selection of apps (including many of the best-known major players) but nothing like Apple's rich ecosystem of apps. But Surface 2 has some characteristics that make it more comfortable for doing work – a choice of keyboards that are better than the third-party keyboards for iPads, better integration with Skydrive for access to work documents, and the important differentiator: full versions of the Microsoft Office programs.
Last year's Surface RT model came with Word, Excel, Powerpoint and OneNote. The Surface 2 will also include Outlook, filling a big hole and turning Surface 2 into a much more interesting business tool. (If you're one of the 10 or 12 people with a Surface RT, you will also receive Outlook with the upcoming Windows 8.1 update.)
In the last article I suggested you pay attention to the rapidly disappearing desktop. The Surface 2 has a remnant of a desktop whose sole purpose is to allow you to use the Office programs. Like the Surface RT last year, you cannot install any traditional Windows programs on the Surface 2. You cannot install Chrome. You cannot install iTunes. You cannot install Quicken. You cannot install (fill in the blank).
It looks like a Windows notebook. You can access and work on your documents and spreadsheets like a Windows notebook. But Surface 2 is not a Windows notebook. It's a tablet with lots of cool apps, plus Microsoft Office.
The same reminder applies, however, as a way to keep that in perspective: you can't install Windows programs on an iPad or Android tablet, either.
If Surface 2 lives up to the claims for better performance, it will be a very tempting tablet. The improvements in Windows 8.1 and longer battery life might actually generate some respectable sales. It is $50 cheaper than Surface RT was at launch but I'm disappointed that Microsoft didn't lower the price further. It's trying to keep the Surface brand in a premium niche with the iPad, but it's unclear why, since that hasn't worked out well so far. The price should be sharply lower – $350 or $400, say – to generate some excitement and momentum.
The Surface Pro 2 will start at $899, but the price can scale up sharply to dizzying heights as you add more memory and more storage capacity. It features an Intel Haswell processor which should improve performance but primarily is designed to increase the battery life – seven hours of video playback, according to Microsoft, which is not bad but not as much as I was hoping.
Surface Pro 2 is a notebook computer running the full version of Windows 8.1, with the power and performance to run any and all Windows programs. At the same time it has a touchscreen and detachable keyboard so it can be used as a tablet, with full access to the selection of full-screen Metro apps. Its small size and light weight (2 pounds) will make it an appealing choice for someone who wants a true Windows PC in a form factor that can slip unnoticed into a briefcase. It does not come with Microsoft Office, so most people will install Office from an Office 365 subscription.
Bear in mind, however, my caution about not expecting too much from Windows desktop programs on small screens. If you plan to install Chrome or Quicken or Photoshop or other desktop programs, the menus and controls will be very small. Some of you aging baby boomers will be happier with a 14" screen on a lightweight Ultrabook. If you plan to run desktop programs very often, you'll want some reading glasses, because frankly, a ten inch screen is just too small to do serious work with traditional Windows desktop programs.
Microsoft will also have an expanded selection of accessories for the Surface 2 and Surface Pro 2 – a keyboard with a power pack to extend battery life another few hours, upgraded Type Covers with backlights, improved Touch Covers, a docking station, and more. They all look well-engineered, and they are all too expensive.
The new Surface tablets are worth consideration but a bit of a mixed bag. They're regrettably expensive across the board, but not stupidly so; Surface 2 undercuts the price of the iPad, after all, and Surface Pro 2 has the build quality to stand up against the higher-end Ultrabooks, which are equally expensive.
Next year there will be an eight-inch Surface Mini and Surface models with built-in LTE service from AT&T or Verizon or other carriers. No official announcement or details about those upcoming releases yet.
Take a look but don't pull out your wallets yet. The new Surface models still have to undergo real world testing to see if the claims are true, and there will be other tablets on the market that might also be tempting. More about those in the next article.