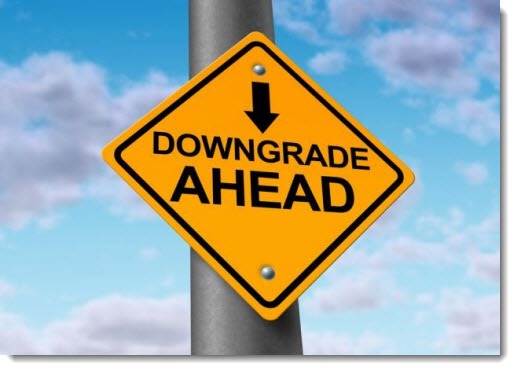 For reasons that I can't comprehend, it is almost impossible to buy Windows 8 on many mainstream business desktop PCs.

The tech press finds it endlessly entertaining to chart the slow sales progress of Windows 8. The most recent collection of articles from last week trumpeted statistics about continued strong sales of Windows 7. The TechCrunch article with the above headline is typical, crowing about the growth in Windows 7 market share in November, which gained 0.22% over the previous month, more than Windows 8/8.1. "Ouch," says the writer. Ouch? Really? A change of less than one quarter of one percent in Windows market share gets an "ouch"?
Meanwhile the PC manufacturers are staring at a steadily declining market. Another analyst report last week:

Windows 7 is perceived as the reliable workhorse but it's four years old and it's not making any pulses race and it's not driving sales up. Windows 8 is controversial with some people but PC manufacturers are in a unique position to unite behind it and try to generate some sales enthusiasm. There are a couple of ways that manufacturers might do that.
The first way to get past consumer reluctance would be to sell laptops that have touchscreens – not as an extra-cost option but as a basic component like a keyboard or touchpad. Using a touchscreen with Windows 8 is natural and complementary to using a mouse and keyboard, and most people quickly come to appreciate the convenience of touching and swiping.
The manufacturers have completely dropped the ball. A year after the release of Windows 8 and touchscreen laptops are still almost novelties. The perception is that a touchscreen adds extra cost and most people understandably don't see the benefit – after all, they've never had one before, right?
If the manufacturers had decided to lead consumers and make touchscreens seem like a natural built-in component of a PC like a touchpad instead of an extra-cost add-on, there was a chance of creating momentum for a wave of upgrades. Instead people are flocking to the bottom of the market and what a surprise, they're finding that it's disappointing to use Windows 8 on a $300 notebook without a touchscreen. It's also disappointing to use Windows 7 on a $300 notebook but people get constant reinforcement to blame Windows 8 for their poor experience.
The second way to get past consumer reluctance would be to sell Windows 8. This one makes me crazy.
Go to Dell's Small Business division. Optiplex desktop computers have been the mainstay of small business computing for nearly a decade. They're sturdy, reasonably priced, and they don't include the kind of flashy but unnecessary frills that are packed onto home PCs.
If you go to the Optiplex page and check the filter to display only workstations with Windows 8, this is what you get:
"No configurations are valid for the chosen filters."
Another variation on the filters displays an all-in-one Optiplex 9020 but also shows that not a single conventional desktop Optiplex can be purchased with Windows 8 Pro.
I've been ordering Dell Optiplex 7010 computers for the last year as a nice compromise between price and features. This is a representative selection of Optiplex 7010 PCs tonight. All of them are supplied with Windows 7 and none of them can be purchased with Windows 8.

Recently Dell introduced upgraded Optiplex models with the latest Intel Haswell processors. These are the selections tonight of Optiplex 3020 and Optiplex 9020 desktop computers – Windows 7 only, no option to get Windows 8 with any configuration: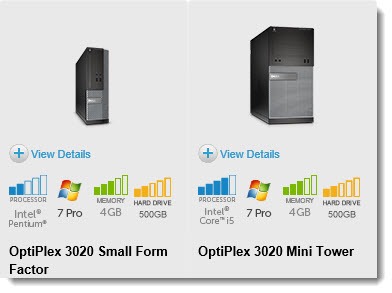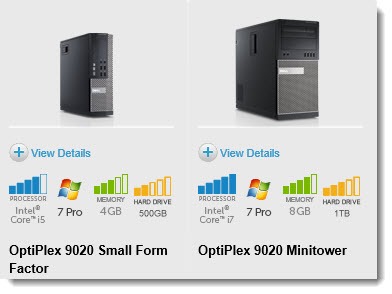 There is literally no way to buy an Optiplex computer with Windows 8.
(It's worth mentioning here that Dell's website has become an appalling labyrinth. It's possible there is a way to configure a model here or there with Windows 8 but if so, it is essentially impossible to find it.)
I'm less familiar with HP's business desktop computers but things look similar over there. If you go to HP's small business division and click on "Advanced Desktop PCs," this is the selection you'll be offered – Windows 7 across the board.


Imagine my surprise that Windows 8 sales are not getting much traction! The PC industry deserves to decline. It has turned its products into bland commodities and seems uninterested in trying to sell something new.
Look, I get it. Businesses are conservative and their inclination is to resist something that seems to require training.
My dad was a salesman. I've seen sales get made. If you're offering a new product that customers don't know they want, your job is to sell it. Convince them. Demonstrate the advantages. Highlight the new product, don't downplay it. You'd be a poor salesman if you hid your new product because no one was asking for it and meekly stood by watching orders decline for your four-year-old product. That's the PC industry in a nutshell.
Windows 7 is no longer available to purchase separately at retail but manufacturers will be able to sell Windows 7 on new computers for quite a while. I expect the industry's self-destructive timidity will continue.
I'd like to be able to introduce more of my clients to Windows 8. It's easy for desktop users to stay on the Windows 8 desktop and take advantage of new Windows 8 features without being distracted by the Start screen, if they choose. It's harder to help Windows 8 make a good impression if I can't buy it.