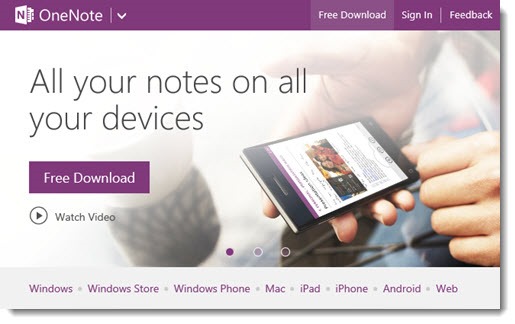 Last week Microsoft launched a major offensive for OneNote, trying to improve its brand recognition and make it more competitive with Evernote. It makes OneNote even more compelling for just about everyone, and there may be some lessons here for what Microsoft will do with its Office programs later this year.
OneNote is free on all platforms
If you've been reading my articles about OneNote, you know that it's a note-taking program that syncs your notes everywhere through your Microsoft account.
As of last week, OneNote is now free for everyone on every platform. If you don't already have it on your Windows computer as part of the Office suite, then there is now a free standalone Windows version. Last week Microsoft released the expected free Mac version. There are free versions of OneNote for Android tablets and phones, iPhones, and iPads. OneNote is included free with Windows Phones and Surface tablets.
All of the versions of OneNote can be downloaded from www.onenote.com – which is yet another place where you can open your OneNote notebooks, since there is a free web-based version of the program.
Microsoft is also opening the program APIs so third parties can interact with OneNote. There are already apps from some scanner manufacturers to send scans directly to OneNote – Brother, Epson, Neat, Doxie, and others. Support has been added to newsreaders (including the widely-used Feedly) to send articles directly to OneNote. There will be more third party support in the future.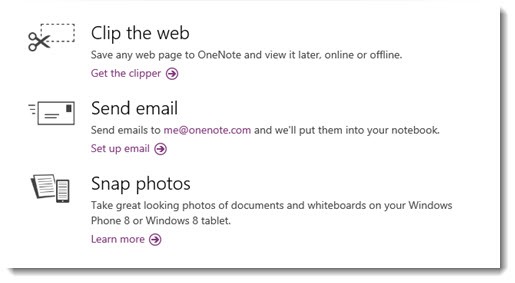 Microsoft also released three new tools that extend OneNote in interesting ways.
Office Lens
The new Office Lens app turns your Windows Phone into a scanner.
Use the app to take a picture of a document, whiteboard, or business card, and the image will be sharpened, cropped, and inserted into OneNote's Quick Notes section. It can be moved from there into any other notebook if you're trying to keep things organized.
The app does most of its work automatically. If you take a picture of a document (a receipt, say) or business card, it will crop to the edges of the page. If you take a picture of a whiteboard, it will crop to the edge of the board, rotate it, and remove glare. In either case, it also does OCR to recognize the words in the image if possible, which allows you to do searches later as well as letting you copy and paste text into other files.
Office Lens for OneNote is currently only available for Windows Phone and Windows tablets, although Android and iOS versions are sure to follow.
Send email to OneNote
You can send an email to me@onenote.com and the contents of the message will automatically be added to the Quick Notes page in your default OneNote notebook.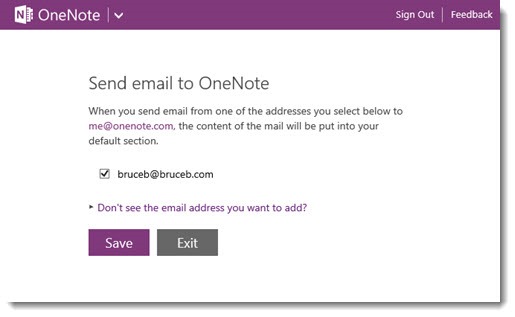 The setup takes seconds. Go to the Email Settings page on OneNote.com and confirm the email address that you will use to send messages. You'll probably use the email address of your Microsoft account. If that's not your primary email address, you can add your primary address as an alias in the settings for your Microsoft Account. Click Save and it's done.
After that setup, when you send an email to me@onenote.com, the contents of the message will automatically appear as a new page in Quick Notes. The subject of the message will be used as the title of the OneNote page and the body will be the note. Again, you can move it from Quick Notes to any other section of any of your notebooks.
OneNote Clipper
OneNote Clipper is a new browser toolbar button that saves a web page into Quick Notes with a single click.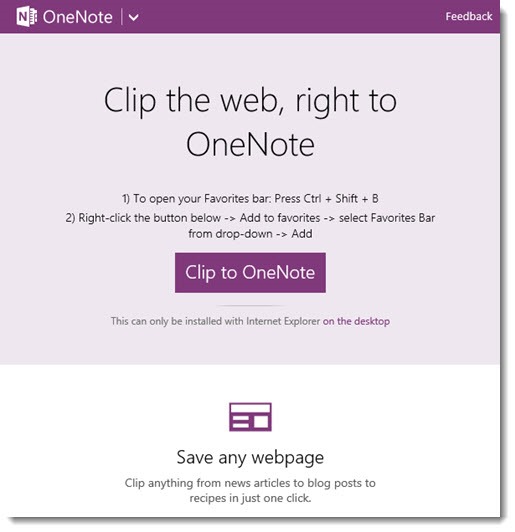 Visit the OneNote Clipper page and follow the instructions to add a new button to your browser Favorites/Bookmarks toolbar. You'll see a new button, "Clip to OneNote." It will prompt you to sign into your Microsoft account when you use it the first time.
The "bookmarklet" works in Internet Explorer, Chrome and Firefox, and reportedly also works on Macs. The product manager for OneNote even left a comment here saying that it's not officially supported but the bookmarklet works fine on iPhones, Android phones and Windows Phones.
When you push the button, a screen shot of the entire page is sent to Quick Notes in OneNote. The OneNote page is just an image with a link to the page at the bottom – and yet, like magic, all of the text on the page can be searched in OneNote.
It's been possible for years to right-click on a web page in Internet Explorer and click on Send to OneNote. That's never worked very well – it sends the words and images to a OneNote page but frequently the formatting is so mangled that the OneNote version is close to unusable. The new Clipper is a better method; it works in all browsers and gives you an accurate rendition of the web page, regardless of its layout.
There will be more Office news this week, when Microsoft is expected to announce new versions of the Office programs for iPads. Don't let OneNote get lost in the publicity barrage. OneNote will reward the time spent to learn it.