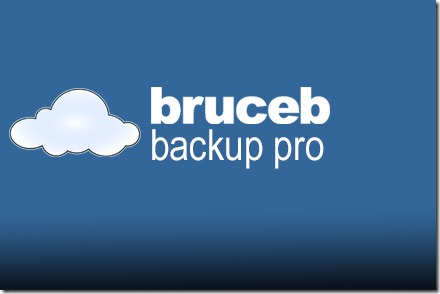 Bruceb Backup Pro is intended to meet the challenge of business continuity with backups that are secure, redundant, and focused on disaster recovery.
I'll be offering Bruceb Backup Pro to clients later this month. Each element has been chosen to complement the rest and put you in the best possible position to recover from any kind of technology crisis, from a missing file to a failed server.
BACKUP
Overview: StorageCraft ShadowProtect backup software will store backup files on a network attached storage device (NAS) in your office. The backups will be replicated to offsite storage in the Bruceb Consulting office. Separately, Bruceb Cloud Backup will backup your data to Amazon S3 storage.
ONSITE BACKUPS – LOCAL
Your primary protection will be provided by StorageCraft ShadowProtect backup software running on your servers. After the initial backup, ShadowProtect will create incremental backups every two hours.
Backups will be stored onsite in a Synology DS114 network attached storage device or the equivalent, supplied by Bruceb Consulting and included in the cost of the service. Using a NAS will be more reliable than a USB external hard drive and there are some important advantages to using a NAS during an extended recovery. (I'll tell you stories someday about backup failures caused by USB external hard drives.) You won't be responsible for swapping hard drives and carrying one offsite – that's been an unreliable process as well.
ShadowProtect can also be installed inexpensively on workstations if you do not have any other workstation backups. (Microsoft Small Business Server and Server Essentials are already doing workstation backups in many small businesses.)
OFFSITE BACKUPS – LOCAL
StorageCraft ImageManager will run on your server daily to verify the backup images and correct any errors. It will consolidate images on a regular schedule so the backup files do not grow exponentially – a single daily image file will replace the files created every two hours, a single weekly image file will replace the daily files, and so on, on a schedule that gives you maximum flexibility to recover anything that matters.
Once the files are checked and consolidated, ImageManager will replicate your backup files to a Synology DS1813+ at the offices of Bruceb Consulting.
I considered various cloud-based solutions but all of them suffered from two problems: there is no effective way to get the initial backup file to cloud storage because of its size (the initial backup file is about half the size of the storage used on the server, typically 100Gb-250Gb or more); and there will be a lengthy delay if we have to download large backup files after a server crash.
Instead, we will copy your initial backup from your server to an external hard drive and manually copy it to the NAS at Bruceb Consulting offices. Subsequent incremental files will be transferred automatically online by ImageManager.
OFFSITE BACKUPS – CLOUD
In addition Bruceb Cloud Backup will backup the data on your server to secure storage in Amazon's S3 cloud storage. If we cannot recover your files or your server with ShadowProtect for any reason, this will be a completely separate place to recover all your data files.
The Bruceb Cloud Backup program is simple and easy. It will frequently be the easiest way for you to recover deleted files or folders, or previous versions of files. I encourage anyone interested to spend some time learning how to use Bruceb Cloud Backup so you can handle day-to-day problems without my help. ShadowProtect is complex and requires specialized training – much like Windows Server Backup.
Bruceb Cloud Backup can also be installed on workstations instead of or in addition to ShadowProtect.
RECOVERY
When your server crashes, Mike Cook or I will head to your office with a specially prepared Dell PowerEdge T320 server running StorageCraft VirtualBoot. The software uses the ShadowProtect image files to bring a virtual machine to life that is an exact duplicate of your server at the moment of its last backup. Within a short time it will be running your network exactly like your old server. Everyone will get back to work.
While the VirtualBoot server is running, we will be able to fix your crashed server at leisure. Maybe we'll get new hard drives, maybe we'll order a replacement server, but you'll be up and running while we figure that out.
Once we have a repaired or new server, we'll restore from the ShadowProtect backups that the VirtualBoot server has continued to make, then slip the server into place quietly and take down the VirtualBoot server.
There will be other options – ShadowProtect is flexible and if necessary we might mount your server as a Hyper-V virtual machine or something else. Unless we run into problems during testing, though, it appears that VirtualBoot will allow us to have you up and running with a minimum of delay.
I'll have more information shortly about pricing and availability of Bruceb Backup Pro!