X1 Search 8 is a program for searching files and emails. It is not for everyone but there are some law office and small business professionals who will find that it immediately enhances productivity and quickly becomes an essential tool.
Windows and Outlook are indexed and searchable already. It will take a minute to explain why you might want to spend $49.95 on a program that does the same thing that you can do already for free.
Let's start with a simple statement of what X1 does:
X1 indexes files on your computer, files on the network, and everything in Outlook, and does lightning-fast searches for words in them.
Since Windows and Outlook already do indexed searches, focus on the things about X1 Search that are different or improved from the basic Windows search:
•  X1 provides one unified place to search everything in Outlook and all of your documents together. You don't have to remember where something is before you search for it.
•  There are many easy ways to filter search results that are either difficult or impossible in Windows.
•  It has hundreds of file viewers for previewing each search result.
•  It has fast and flexible tools for acting on documents and emails found in a search.
X1 first appeared more than a decade ago. I fell in love right away and enthusiastically recommended it to clients. Two years later Microsoft introduced Windows Search 3, the first built-in version that did a good job of creating and searching files from an index, and improved it significantly with Windows Search 4 in 2008. The improvements in Windows Search meant X1 was no longer necessary for most people and the company started going through hard times. In the next few years it tried repositioning itself as a consumer tool to index social media streams – Facebook, Twitter, LinkedIn – which was useful but not very lucrative. X1 retooled itself for enterprise and launched the current X1 Search 8 products, which include a search program for individual computers (the one we'll discuss here), plus enterprise search engines for virtual machines and Sharepoint document repositories. Its ultimate success is unclear but X1 Search 8 is a knockout winner for power searchers in small businesses.
X1's appeal is to people in a typical law office or small business. See if this describes you.
•  Your copy of Outlook is stuffed with tens of thousands of emails, hundreds of contacts, and calendar entries going back five or ten years. (And extreme email users have archives in giant PST files.)
•  Your personal file folder has hundreds or thousands of files.
•  The firm documents are in the M: drive, which has tens or hundreds of thousands of files going back to the beginning of time. There's no document management program, just folders with more or less consistent names.
•  You do searches in Outlook separately for each type of item – email messages and attachments, appointments, contacts.
•  You do searches in Windows for documents. Searches through your documents are separate from searches through the firm documents. To find something, you have to remember where it might be stored.
Let's take a look at how that changes with X1.
Search results in X1 appear as fast or faster than in Windows – literally as you type each letter, the results are being narrowed.
The search window looks like this. You can see that the search term is highlighted in file names and in the preview of each item.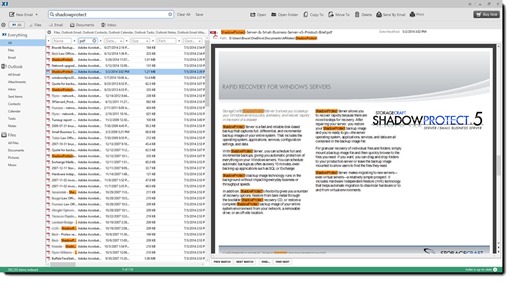 By default, a search covers everything – documents, email, attachments, calendar, contacts, and tasks. You can sort the results in any way you can imagine, of course – by date, name, size, etc.
Along the top are buttons to narrow in on a single type of data with a click – All, Files, Email, Documents, and Inbox.

On the left are more detailed choices to narrow the search – files, email, different categories and locations in Outlook, and different types of files.

Just above the search results are column headings. Typing in any of them narrows the search immediately, as you type. In this search, for example, I narrowed the search result to show only PDFs by typing "PDF" into the "Type" column. You can filter by file name, by file type, by date, or by folder name ("Path" – useful when folders have client names). In fact there are fifty different possible columns that can be displayed and used to filter search results.

Each search result is previewed on the right when it is highlighted, and buttons appear for common actions that you might want for that type of item. If you highlight an email, for example, these buttons appear at the top.
If you highlight a Word document or PDF, these buttons appear at the top:

X1 Search 8 is installed as a local program on each computer. Nothing is running on the server. Each computer compiles its own index and does its own searches. It's not a good solution for laptops that are frequently disconnected from the documents on the office server. It's also not a good solution for larger offices, where the bandwidth of dozens of computers individually updating their indexes would slow down the network. It's perfect for a small office.
There are a couple of limitations that are shared by Windows Search and X1 Search: OneNote notebooks do not show up in search results, and the contents of Adobe PDF Portfolios are not indexed.
You can install a 14-day trial of X1 for free. The help files are online here, and you can view videos here for tips about getting started and using the program.
Windows Search has brought us a long way but X1 Search steps up to a different level. Instant access to files and emails means less wasted time and greater productivity. Businesses should consider getting copies for employees whose jobs require them to find needles in haystacks every day. An X1 Search license is $49.95 plus $19.95/year for premium support. If it saves an hour a day, or even an hour a week, it is well worth the price.