Windows 8.1 includes six best-of-class apps designed to show off the Windows 8 full-screen Metro environment. Last week Microsoft announced that they will be rebranded as "MSN apps" and made available on additional platforms. Give them a look – each one is beautiful and packed with useful information. They've become part of my daily routine.
The apps are currently labeled "Bing Apps," although the Bing branding is subtle. Windows 8 was originally released with News, Finance, Sports, and Travel. Windows 8.1 added Food & Drink and Health & Fitness. A year ago mobile versions of the apps were released for Windows Phone 8.
In the next few months, the apps will be made available for iOS and Android, allowing them to get the wider audience they deserve.
If you have a Windows 8.1 computer, arrange the tiles on the Start screen so the apps are easily accessible, as in the screen shot above. Each one has a Live Tile that can be turned on or off with a right-click; the News tile will rotate through headlines, for example. Here is the same Start screen array with Live Tiles turned on.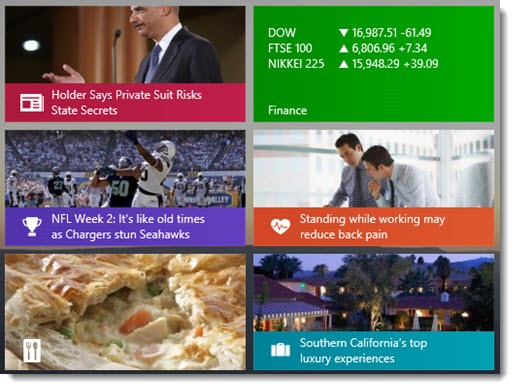 Each app provides a highly visual magazine-style view of topics drawn from many online sources. Scroll from left to right for more sections – the News app has Top Stories, World, Business, and Sports, for example. When you click on an item to read it, a back button will be available in the upper left. Frequently clicking on a section heading will bring up more items on that topic – clicking on "World" in the News app, for example, will fill the screen with World news stories.
The apps are a demonstration of the Metro design that Microsoft wants all programs to use going forward. They are designed to look as good on a ten inch tablet screen as they do on a 24 inch monitor, and they are easier to manipulate with a touchscreen than with a mouse. The phone versions, currently on Windows Phones and soon on iPhones and Android phones, collapse the experience beautifully for smaller screens.
Swipe down from the top on a touchscreen, or right-click with a mouse, to bring a menu down from the top in each app. Try it in the News app – bring down the top menu, then click on Sources. You can choose from hundreds of news sources from all over the web. Clicking on one will display current items from that source in the same gorgeous magazine format. They're all continuously updated, of course.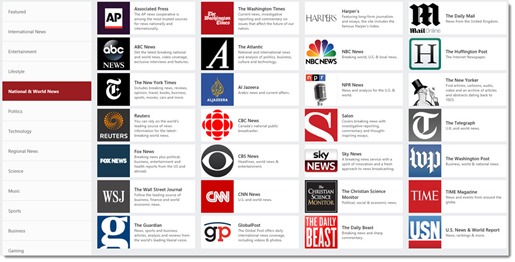 Each of the apps has its own very deep content. Bring down the top menu in Sports and focus on one sport in particular. Choose from recipes assembled from many of the top online sources in Food & Drink (and use the app to generate a shopping list and file your recipes). Work with a mortgage calculator and do retirement planning in Finance. Find exercise workout videos in Health & Fitness.
Try this for my favorite Windows 8 demo. Open the Travel app, click on the search icon in the upper right, and search for a city. Scroll to the right – you'll see basic information from Frommers, maps, currency converters, and more. There will be a section of photos, followed by a section labeled "Panoramas."
Pick a panorama. Once it fills in, swipe it with your finger if you have a touchscreen, or drag with your mouse. You'll grin, I guarantee it. It's too cool. There are thousands of panoramas for destinations all over the world. It's just eye candy, but it's really good eye candy.
Each app can be customized. You can add or remove sections, create favorites within an app, or to pin individual sections to the Start screen in a separate tile, and much more.
The rebranding from Bing to MSN is not terribly disruptive because these apps never really became known as "Bing apps" to most people. Microsoft is going to try again to push the MSN brand and plans to redesign the MSN website to include much of the same content presented in the apps, with the same visual flair.
Watch for these apps on iOS and Android, probably by the end of the year. I expect them to be just as inviting on those platforms. And don't overlook them if you're a Windows 8 user! You might decide to use the apps sometimes instead of endlessly surfing through ad-laden websites.