Bluetooth has been around for more than ten years powering our phone headsets but not much else. Now that we're using phones and tablets as our primary technology devices, Bluetooth is turning up everywhere.
Bluetooth is a special kind of wireless signal designed to work over short distances. Frequently you'll see references to a range of thirty feet but the reality is frequently far less. You'll likely use it for devices that are right next to each other.
Let's look at three examples of how Bluetooth is being used today: keyboards and mice, speakers, and automobiles.
Bluetooth keyboards & mice
For years you've been able to get wireless keyboards and mice that use a USB adapter to broadcast the signal. The USB adapters are now very small – Logitech's adapter extends out barely enough to get a grip on it with fingernails when it's time to remove it. But a USB adapter still requires a USB port, frequently a scarce commodity on today's slim laptops, and the adapter is one more tiny thing to lose.
Bluetooth has been built into every laptop, tablet and phone for several years. A device broadcasts a Bluetooth signal; the laptop, tablet, or phone is "paired" with the device and can talk to it over that connection without any adapter.
A Bluetooth mouse is the perfect accessory for a laptop if you'd prefer it to a trackpad. I've used a laptop-sized Logitech Bluetooth mouse ($39.99) for the last year or so and recommend it highly. Turn it on with the switch on the bottom, wait a few seconds for the laptop to find it, and get to work.
Microsoft just released an alternative for people who travel frequently. The Microsoft Arc Touch Bluetooth Mouse ($69.95) uses the latest Bluetooth technology and has an interesting feature for portability: with a quick snap, it flattens and turns off, leaving no lump in your bag. This is a picture of my Arc Touch Bluetooth mouse when it's turned off.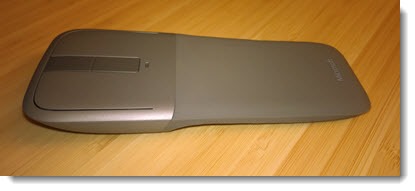 This is a picture of the mouse when it's turned on and ready to use.
It has a slightly unusual feel in the hand, and a touch strip in between the buttons for scrolling instead of a wheel. It hasn't taken long to get used to it and the convenience of the flat shape makes it a great mobile choice.
There has been an explosion of third-party keyboards for tablets in the last few months. Microsoft just announced the Universal Mobile Keyboard ($79.95), a Bluetooth keyboard with a switch that lets it be used with iPads, Android tablets, and Windows tablets, and a detachable cover that becomes the stand for the tablet. It's slightly smaller than a regular keyboard but it's portable and looks like a solid choice for iPads and Android tablets. (Surface users are better served by the keyboards designed for Surface and deeply integrated with the hardware and OS.) Logitech has a similar Bluetooth mini-keyboard that connects to any wireless device that supports external keyboards, which means any type of smartphone, tablet or laptop.
Bluetooth speakers

All of a sudden the market is flooded with Bluetooth portable speakers and headphones. Audio plays very nicely from a phone or tablet without wires. At the high end are $300 boxes the size and weight of a brick like the Bose Soundlink BlueTooth Speaker III and the Jawbone Big Jambox that push music at volumes that can fill a room, with deep satisfying bass. At the low end are little speakers like the Nokia MD-12 ($49.99) pictured above, about the width of an apple and available in bright colors. The Nokia speaker uses the surface it's sitting on to boost its bass, which turns out to be surprisingly effective.
After reading reviews, I eventually settled on the Creative Sound Blaster Roar ($149.99), which delivers almost the same quality sound as the Bose and Jawbone speakers for half the price.
There are a couple of things to know about Bluetooth speakers.
•  It's the perfect way to boost the sound for watching video on a laptop or tablet, especially if you're pushing the video to a TV or projector, but the sound is delayed just enough to be disconcerting. It's only a fraction of a second but it's enough that the lips on the video don't quite match the audio.
•  Bluetooth is flaky about connecting to devices, especially when they are waking up from sleep. I've frequently had to fuss with the connection to each of these devices. Example: the Surface Pro 3 usually doesn't find the Creative SB Roar until I remove it from the list of Bluetooth devices, then add it back with the speaker in pairing mode. It's not difficult but it's not quite as seamless as you'd like it to be.
Bluetooth in autos
You're probably already familiar with connecting phones to cars with Bluetooth. It's the process where you have to tap the secret pairing code "1 1 1 1" into the phone. Almost all cars have had Bluetooth for phones built in for several years, allowing you to make hands free calls. My 2008 Prius occasionally reads text messages out loud, although it's so erratic that I'm surprised when it happens.
Apple and Google are fighting to make deals with car manufacturers, so you may find that your next car will do extra tricks if you have the right kind of phone. But most new cars will connect with Bluetooth regardless of whatever specialized iPhone or Android phone apps are available – and now Bluetooth will deliver audio as well as phone calls to the car. In a new car, you can play Spotify or iTunes or your preferred music app on your phone and hear it through the car speakers over Bluetooth. You may not get all the benefits of an Android-friendly car if you have an iPhone (or vice versa), but you won't be completely shut out.
I expect many more Bluetooth devices to hit the market soon. It will repay the effort to figure out how Bluetooth works on your phone or tablet.