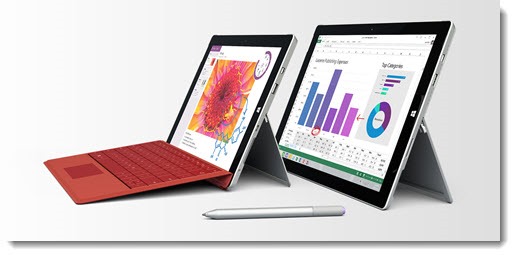 The new Microsoft Surface 3 combines the good qualities of the Surface Pro 3 with a dramatically lower price tag. It's a real Windows PC, with none of the compromises of the earlier Surface 2, so you can run all of the programs you can run on any other Windows laptop or desktop computer – but pull the keyboard off or fold it back and the Surface 3 is also quite a nice tablet. If you were only interested in a tablet, you might get an iPad, which offers a better pure tablet experience – but getting a pretty good tablet that is also a full-blown computer for the same price as an iPad? That's tempting.
As always, let's get some background about how we got here before we turn to the details.
Background
Microsoft entered the laptop/tablet market with the first Surface a little over two years ago, driven in part by frustration with the lack of creativity of computer manufacturers. The computer market was stale in 2012, despite better hardware that could have been matched with the new touch features of Windows 8 to make exciting devices. Somewhat out of desperation, Microsoft decided to force the issue and make a high-end, elegant device, even if it made the other computer manufacturers irritable. (It did.)
Each of the Surface models has been exceptionally well engineered – thin and light with innovative keyboards that made them the first device that could truly work either as a tablet or a laptop computer. The kickstand is such an obvious and necessary part of the experience that it's hard to understand why Apple hasn't copied it yet for the iPad.
The first two generations of Surface devices had fatal shortcomings, despite the elegant design. Microsoft had so little faith in Intel that it created "Windows RT," an entirely new version of Windows for the Surface and Surface 2 that could run on the low-powered ARM chips commonly used in smartphones and Android tablets. It was a heroic programming effort but doomed to failure with consumers because Windows RT could not run traditional Windows programs, the basic expectation of anyone buying a Windows device, whether they knew it or not. Meanwhile, the Intel x86 Surface Pro and Surface Pro 2 performed terribly because Intel was slow to create mobile processors that could run thin, lightweight tablets at an acceptable speed.
The Surface Pro 3, introduced last summer, was the first unqualified hit for Microsoft. The 12" screen is bigger than the previous Surface models; it's also more square than traditional laptop screens, making it work better in portrait mode as a tablet. The Surface Pro 3 runs full-powered Intel Core processors, with fast RAM and solid state hard drives, giving it the same performance as any other premium laptop. Somehow, though, all the performance is packed into a wafer-thin blade that's comfortable to hold and weighs less than two pounds. Microsoft improved the detachable keyboard and added a magnetic strip that attaches the keyboard at a slight angle to the bottom of the screen, giving it extra stability and making it more comfortable for typing. The Surface Pro 3 also includes a stylus/pen built with better technology than any other stylus on the market. It's suitable for note taking and can meet the needs of artists for fine control and pressure sensitive motions.
Sales for the Surface Pro 3 were robust and Surface is now a billion dollar a year business for Microsoft. Surface Pro 3 is one of the devices on the short list of anyone looking for a premium laptop over a thousand dollars.
Now Microsoft is trying to fill a niche in the sub-thousand dollar laptop category. The Surface 3 is about half the price of the Surface Pro 3, coming in between $500-$1,000, comparable to many other inexpensive laptops. Not everyone wants a device that can also serve as a tablet; it feels different than a conventional laptop, with the weight in the top and an insubstantial feeling keyboard. But there is nothing like it in that price range and many people will find it irresistible.
Specs
You can find detailed specs on Microsoft's page comparing the Surface 3 and Surface Pro 3, or in this article about the Surface 3. I'll just mention a few highlights.
The Surface 3 screen is smaller than the Surface Pro 3 at 10.8" – small for a laptop, generous for a tablet. The screen is crisp and detailed but the resolution is not quite as high as the Surface Pro 3, meaning things onscreen will not be too small for aging baby boomer eyes.
Considering this is a full-power laptop, it's a bit startling that it only weighs 1.37 pounds, a half pound less than the Surface Pro 3.
There's a new Intel Atom x7 processor which is significantly slower than the Core processors in the Surface Pro 3. Keep in mind that the Surface 3 has a speedy solid state drive, not a slow conventional spinning hard drive. That makes more of a difference in performance compared to other inexpensive laptops than any other single component, including the processor. Performance won't be a problem for most people. Surface 3 should run Office programs, web browsers, and typical programs without breaking a sweat.
Reviewers have been busily benchmarking the Surface 3 for the last few days and the consensus is that it is a bit slow to open programs but surprisingly quick to run them. The Surface 3 will not run most games and it would likely be frustrating to use it for demanding programs – this is not the machine you want for Adobe Photoshop or database work. My guess is that it will offer better performance than comparably priced conventional laptops.
You'll want to buy a Surface 3 with 4Gb of RAM, instead of the cheapest model with only 2Gb. The cheaper one will run but more RAM will help performance enough to be worth the extra money.
The other specs are better than you would expect for the price. Long battery life, good cameras, a kickstand with three positions, a beautiful screen, USB 3.0 port, microSD card slot, and an interesting new micro USB charging connector, meaning the Surface 3 can be charged by any of the standard phone chargers you have stuck in a drawer.
Later this summer another model will be available that includes 4G LTE, which will allow the Surface 3 to get an Internet connection directly from AT&T or Sprint. (Verizon? Stay tuned. No one knows.)
Price
The Surface 3 starts at $499, but a number of things will increase the price at the cash register.
The model you want has 4Gb of RAM and 128Gb of hard drive space for $599.
The keyboard is sold separately for $129. People are annoyed at the perception of an "extra cost" because the keyboard is an integral part of the Surface; buying the Surface 3 without a keyboard would be missing the point. Stay calm. Whenever you see a price for a Surface 3 or Surface Pro 3, just add $129 in your mind and let it go. It's the cost of fashion: selling the keyboard separately allows you to choose from five different colors. Keyboards from other Surface models will work with the Surface 3 but they won't quite be the right size.
You can also buy the pen separately for $49. (It's the same pen that's included with the Surface Pro 3.) It has interesting buttons that can open OneNote with a single click for handwritten notes, and can be used easily as a pointer to click or right click on the screen.
The real price of a Surface 3, then is $730. That's comparable to many other midrange laptops and arguably is a better value, at least for some people. It's also roughly the same price range as an iPad, but offers more for students and mobile professionals on a budget who want a single device that can be used to do real work in addition to typical tablet chores – browsing the Internet, reading email, streaming Netflix shows, talking on Skype, etc.
At $730, the Surface 3 is just about exactly half the price of a Surface Pro 3 with a Core i5 processor and 256Gb of storage and keyboard. The Surface Pro 3 has a bigger screen and the better processor might make it last a year or two longer before outgrowing it. Which is better – one Surface Pro 3, or two Surface 3s? Good question.
Windows 10
Windows 10 is six months away. The Surface 3 and Surface Pro 3 will both be upgradable to Windows 10, of course, like every other Windows 7 and 8 computer. Windows 10 is being built with special features for laptop/tablet hybrids and theoretically will switch modes automatically depending on whether the keyboard is attached, detached, or folded back. If that works smoothly, it will make the Surface devices even better. Remember, though, there was a time when Microsoft believed the Windows 8 Start screen was a good idea. Let's reserve judgment until we see how it works.
Not everyone will want a Surface 3, but if you're in the market for a laptop, you owe it to yourself to decide whether you're one of the people who would enjoy it. The Surface Pro 3 continues to be the high-end choice that works best for professionals who can afford it, but the Surface 3 offers most of the interesting features of the Surface Pro 3 for less money. A lot less money. You can see them this month at Microsoft Stores and Microsoft is taking pre-orders online. Surface 3 will start shipping on May 5. Take a look!