You may see a new Windows icon appear in your taskbar soon, alerting you to the upcoming release of Windows 10. Microsoft just began to activate the notices on Sunday, and all Windows 7 & 8 users will see them eventually. Here's what you need to know about Windows 10 upgrades!
Windows 10 will be a free upgrade for everyone running Windows 7 and Windows 8.1. (Well, everyone except big enterprises, which will be handled differently.)
Windows 10 will be available for the first time on July 29. Retail sales will apparently begin at the end of August. The release date has been shrouded in secrecy until now; the official announcement of the date last night includes details about the new features in Windows 10, if you want to know what to expect. You'll find more info at Microsoft's official Windows 10 page.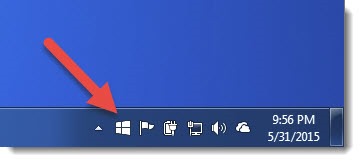 The upgrade icon will appear in the taskbar. I triggered it by doing a manual check for updates tonight. The underpinnings were laid by a Windows Update (KB3035583) a few weeks ago – installed automatically on Windows 8, apparently still marked as Optional in Windows 7. Some of you may not see it right away.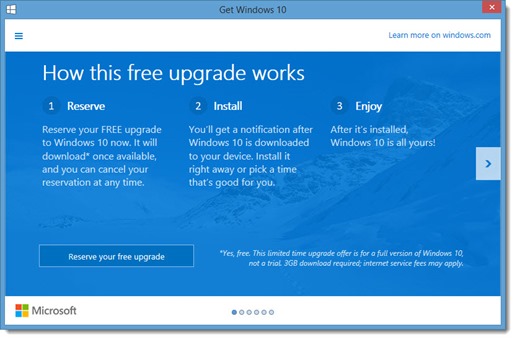 Reserve Windows 10 by supplying your email address. Windows 10 will be free. You're not making any promises and you'll be under no obligation to install it until you're ready – or not at all, if you choose. Your computer won't be changed without your permission.
The reservation means that the install files will be downloaded ahead of time. When you "reserve" your free upgrade, what you're really doing is allowing Microsoft to download the installation files behind the scenes, so you won't have to wait for them to download when you're ready for the upgrade. All the big companies have been trying to find ways to deal with huge numbers of people trying to download files simultaneously, creating a load that crashes servers no matter how carefully things are prepared. For Windows 10, Microsoft is using the method originally created for the XBox where you can pre-order a game and have it downloaded ahead of time, ready to be installed on the official launch date.
Will you want Windows 10 when it's released? It's free, and Microsoft has a lot riding on it, but the important question is whether you're going to want to use it. And the answer is, well, it's going to be . . . oh look, a chicken!