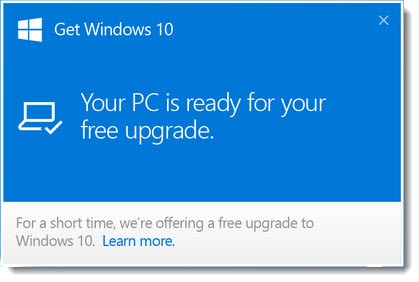 Microsoft is reneging on its promise to deliver Windows 10 to you on July 29 – and it's the best thing it could have done. I still want you to wait 30-60 days after July 29 before you upgrade, but Microsoft may help by not letting you see the upgrade button until then.
The original announcement of the launch date was unambiguous: "On July 29, you can get Windows 10 for PCs and tablets by taking advantage of the free upgrade offer."
Last Friday Terry Myerson, the exec in charge of Windows at Microsoft, said something quite different: "Starting on July 29, we will start rolling out Windows 10 to our Windows Insiders. From there, we will start notifying reserved systems in waves, slowly scaling up after July 29th."
(The announcement of a delayed launch came the day after my article advising everyone to delay their own upgrades. I'm sure that was just a coincidence. I know Tim Cook is an avid reader of Bruceb News but I'm not positive about Mr. Myerson.)
It makes perfect sense. "Windows Insiders" are the millions of tech-savvy users who have been testing Windows 10 during development. They are the people who are best able to recover from an upgrade problem. Microsoft will learn from their experiences and improve the upgrade process continuously.
The announcement says explicitly that the goal is to work on compatibility problems on a daily basis. "In our testing of millions of systems, we're seeing full compatibility today with the vast majority of Windows 8x and Windows 7x systems – and we are not yet done, we will never be done – we will be continuing this application and device compatibility work every day as part of our ongoing commitment to Windows as a service."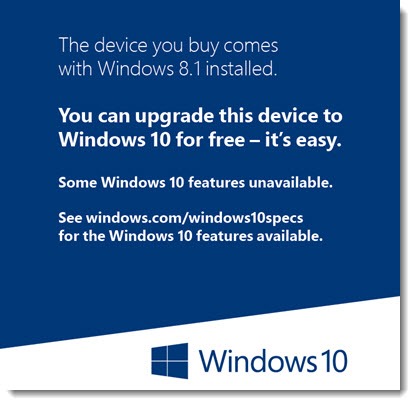 The next group to get Windows 10 upgrades will be retailers selling Windows 8.1 computers with hardware that is already certified for Windows 10. Manufacturers are using the above sticker to indicate that upgrades are likely to go smoothly.
Eventually upgrade notices will start to appear for the rest of us, in "waves, slowly scaling up." Microsoft gives no hint of whether that will take days, weeks or months, almost certainly because it doesn't have any idea and won't know until the rollout gets under way. "If you reserved your copy of Windows 10, we will notify you once our compatibility work confirms you will have a great experience, and Windows 10 has been downloaded on your system."
It's obvious that Microsoft mis-timed the launch and Windows 10 won't be ready to install on hundreds of millions of computers worldwide on July 29. Putting aside the frustration of a broken promise, I take it to be a big step forward for everyone if Microsoft takes extra time to iron out compatibility and driver problems before offering the upgrade.
Sit tight and enjoy the show. You might not see an upgrade notice until September or October, and by the time it appears it might be safe to click on it.