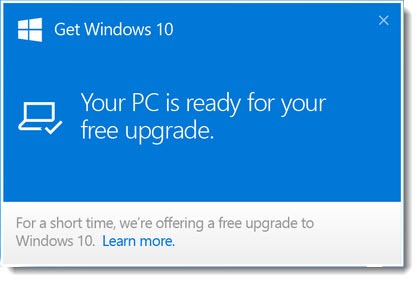 The worldwide Windows 10 rollout has been proceeding for two weeks. Before long some of you are going to be notified that your free upgrade is available for the taking. Time to get ready!
There are three questions to talk about.
•  What's new in Windows 10?
•  Should you upgrade to Windows 10?
•  If so, when should you upgrade to Windows 10?
I've been using Windows 10 for months on all my computers. I've been watching friends and clients use it for the last few weeks, and I've been obsessively sampling the fire hose of information online about people's experiences with Windows 10. These two conclusions seem to be generally true.
(1) If you upgrade to Windows 10, you will not regret it. It is a mix of familiar and improved things, with no downside. There's nothing that you'll hate and a lot to like.
(2) There's no killer new feature to make you excited about the upgrade. After you look around and get used to a few things in new places, you'll get back to work. Windows 10 will not change your life or transform your business.
What's new in Windows 10?
Let's start by looking at what's new in Windows 10 so you can get a sense of whether any of the new features will make any difference to you. After all, nobody is forcing you to change anything. If you're happy with your computer running Windows 7 or 8, you have the option not to do anything at all. I expect a lot of you will decide to get Windows 10 on your next computer but not upgrade the computer you have now.
Windows 10 has been designed to be the operating system that everyone loves. It keeps some of the best features from Windows 8, brings back the Start menu and other familiar favorites from Windows 7, and adds new elements to make it work smoothly on all types and sizes of device. There's better security, a new browser, interesting new ways to issue commands and do searches with Cortana, and little improvements everywhere. It's an adorable puppy that jumps in your lap and looks at you with those big eyes. How can you resist?
It's all good, and yet considering how much attention is being paid to Windows 10, it's a little startling to look at a list of the new features in Windows 10 and discover how modest they are. These are the highlights.
•  The Start menu combines the Windows 7 Start menu and the tiles from Windows 8 in an interesting, messy way.
•  Cortana is a search tool that adds some intelligent assistance developed from what it learns about you (similar to Google Now), and voice responses to questions and commands (similar to Siri).
•  Internet Explorer is replaced with the new Edge browser, which closely resembles Google Chrome: minimalist, very fast, and built to support modern web standards. It's not done yet but it probably will be by the time you upgrade.
•  Continuum is a brand new feature that switches between the traditional desktop setup for keyboard and mouse, and a tablet setup when there's no keyboard. If you have a hybrid device, Windows 10 is a big deal. If you don't, you'll never see Continuum.
•  Lots of other tweaks. Task Switcher (the grown-up version of Alt-Tab) is enhanced and made easier to discover. They've improved the process of snapping windows to fill half of the screen, and added a new way to snap four windows that each take up a quarter of the screen, in case that's the kind of thing you always wanted to do. There's a notification panel on the right that seems kind of useless but it's an improvement on the Windows 8 Charms bar, anyway. Little changes in File Explorer. Big improvements in the Settings window, although there's still too much bouncing back and forth between Settings and Control Panel.
•  Under the hood, Microsoft has made Windows 10 compatible with just about everything. Security is improved. It's stable and fast. Microsoft is committed to improving Windows 10 at a rapid pace.
And that's about it. It's good, quite good! But not exactly life-changing stuff.
If you want to look through more detailed lists of new features in Windows 10, you'll find some here and here and here. Maybe you'll find something I didn't mention that makes your eyes light up.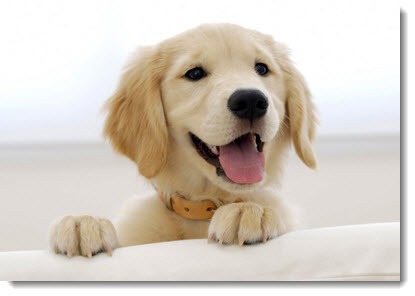 None of that is meant to be dismissive of Windows 10. Windows 10 is the happy puppy that desperately wants you to love it. Happy puppies are wonderful things and there's no reason to resist this one. Look forward to Windows 10. It's all good.
But there are still some things to discuss before you push that upgrade button. We'll turn to some more considerations in the next article.