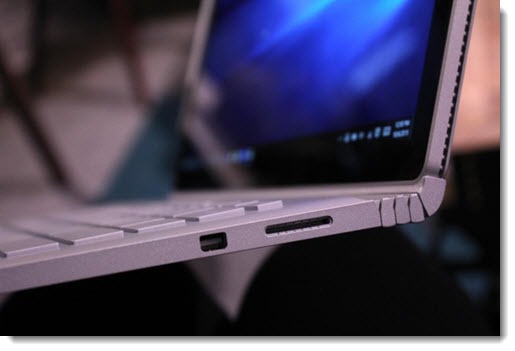 Executives at Dell and HP and Lenovo put their head in their hands and moaned as they watched Microsoft's presentation of new hardware on Tuesday.
It was Microsoft's best presentation in years, showing off new phones that can turn into computers; a Hololens augmented reality demo that had a goggle-wearing presenter shooting lightning bolts at robots climbing out of the walls; and the Surface Pro 4, which is generally improved in just about every way from the already impressive Surface Pro 3.
That wasn't all. Microsoft had a surprise up its sleeve.
Panos Panay, Microsoft's hardware chief, was fizzing with energy as he introduced the Surface Book, Microsoft's first laptop. It was an unexpected announcement. Somehow Microsoft had kept a major new piece of hardware completely secret until its announcement, no small feat these days. Microsoft is taking pre-orders for the Surface Book and will start shipping on October 26.
The air was thick with superlatives.
•  The ultimate laptop!
•  Twice as fast as the MacBook Pro! The fastest 13" laptop ever made.
•  A crazy looking snake-like hinge that looks incredibly sturdy and just a bit odd.
•  A redesigned keyboard that reflects Microsoft's decades of experience building keyboards – Panay's voice dropped to a whisper so we'd know how quiet it is.
•  The best screen on any laptop, 13.5 inches and very high resolution, 3000×2000, with the almost square shape that Microsoft has been using on the Surface Pro 3.
•  An oversized glass trackpad, maybe fixing one of the notorious trouble spots on Windows laptops.
•  Twelve hours of battery life.
•  A powerful Skylake Intel processor matched with Nvidia graphics that are strong enough to make it a gaming-quality machine.
The Surface Book looks dazzling. Just as it did with the original Surface, Microsoft is showing the manufacturers what innovation looks like.
Then Panay grinned and showed everyone watching that the magician had concealed the real trick until the reveal at the end.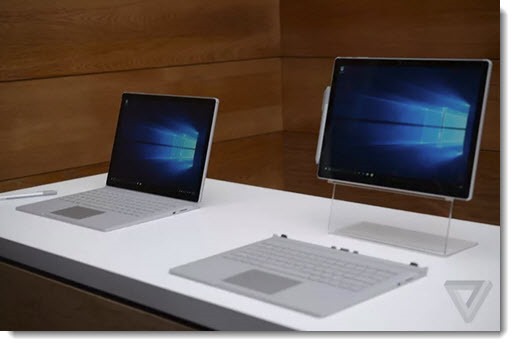 He pressed a button and the keyboard came off in his hand. He was holding a 1.6 pound tablet.
There was an audible gasp from the audience before the applause started. A lot of technology fans opened new savings accounts.
Microsoft calls it the ultimate laptop. It is a no-compromises top-of-the-line laptop that turns into a thin and light tablet with a single click. As a tablet, Microsoft calls it ounce for ounce the thinnest and most powerful computer ever built.
The keyboard can be flipped around and reattached so the Surface Book can stand up in presenter mode, or folded flat with the keys safely nestled inside. When it's attached, the keyboard is held firmly with hooks that retract electronically – no magnets here.
The Surface Book divides its internal components between the top (behind the screen), and the bottom (under the keyboard). The weight is evenly distributed. The Surface Pro 3 feels unusual because all the weight is in the top, with nothing but a paper-thin keyboard on the bottom. That's why it needs a kickstand. The Surface Book feels like a laptop.
Executives at Dell and HP and Lenovo will be presenting their fall lineups in the next few weeks but they have nothing this graceful and wonderful to show off. Microsoft has out-maneuvered them.
A couple of weeks ago Apple proudly showed off the iPad Pro, its oversized imitation of the Surface Pro with a poorly designed keyboard stand. It wasn't very impressive on first glance and now looks like a toy compared to the Surface Pro 4. Google introduced its own Surface imitation last week, the Pixel C, an uninteresting Android tablet with a keyboard.
Apple and Google are stuck copying Microsoft's technology from last year, and not even doing that very well. No one has anything like the Surface Book. Who would have predicted that Microsoft would be leading the industry in computer hardware in 2015?
The ultimate laptop comes with a high price tag. The cheapest model is $1,499, the least expensive model with the Nvidia graphics processor is $1,899, and the price can soar to $2,699 for the fastest processor, 16Gb of memory, and 512Mb SSD. Mary Jo Foley's article has the prices.
You can watch the introduction of the Surface Book here (jump to 1:15), or watch a nine minute compilation of highlights of the entire presentation here. You can find first looks at the Surface Book here and here. You are well advised to hold onto your money until reviews appear and the Surface Book has been road tested to be sure it lives up to its promise – but it's quite a promise.
Microsoft brought some passion and excitement to the computer industry this week. In the next two weeks new Windows 10 devices will be announced by HP, Dell, Asus, Acer, Toshiba, and Lenovo. They may not have the ground-shaking appeal of the Surface Book but we can expect some exciting computers that might fit your budget more easily. It's a good month for technology!