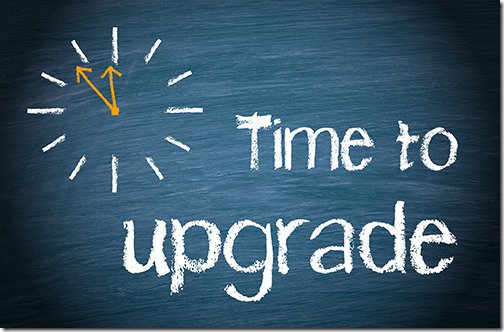 Windows 10 is exactly six months old. We are halfway through the period that Microsoft is making Windows 10 available as a free upgrade for Windows 7 and Windows 8 computers. (No one knows what will happen on July 29, 2016. If you're going to upgrade, do it before then.)
Microsoft is going to step up its efforts in 2016 to get everyone to upgrade. At some point soon, Microsoft is expected to flip the switch in the Automatic Update system to make Windows 10 a "recommended" update, which will cause it to be installed automatically for many people. Microsoft also announced last week that it will be pushing its aggressive taskbar icon and notices to small businesses with domains that have been left alone until now.
The Windows 10 upgrade process has matured in the last six months. Microsoft has been steadily improving its driver support and issuing updates to the installer and to Windows 10 itself to make the upgrades smoother and more reliable. I haven't had any personal experience with an upgrade disaster for several months. I think it's ready for more of you to take the plunge.
Should you upgrade? Here's the advice I'm giving people now.
Prepare for the upgrade
The details are here but there's only one crucial step: back up your files. Everything in the personal folders for each computer user – Documents, Pictures, Music, Videos, plus Quicken/Quickbooks files in the Public Documents folder. I don't care how you back them up as long as you have a copy if things go completely haywire.
Most people have plenty of free hard drive space but it doesn't hurt to check before pushing the Upgrade button: open up File Explorer and highlight My Computer / This PC. Make sure there's a generous looking bit of free space on the C: drive.
Upgrade
Windows 8 computers: upgrade! You'll like it.
Windows 7 home computers: upgrade! The odds are high that the upgrade will go smoothly. You'll have important security improvements, and nice touches all over that make Windows 10 a pleasure to use. There are no drastic changes. You might have to spend some time dealing with small glitches – a printer that drops out of sight or the like – but with luck nothing worse than that.
Windows 7 business computers less than four years old: upgrade, but only at a time when you can afford some downtime to deal with whatever issues come up.
Windows 7 business computers over four years old: don't upgrade. It might cost the business money and downtime to deal with upgrade glitches and the rewards aren't worth it.
One important thing to know about the upgrade process: Normally you should expect it to take 1-3 hours, but occasionally it takes 12-14 hours for no particular reason. Do not start the upgrade if that would upset you. It's a good project for your computer to do overnight.
After the upgrade
Before you do anything else, follow the advice in The Ultimate Guide To Configuring Windows 10 to remove the Edge browser and reset defaults for PDFs and for Outlook. After you've used Windows 10 for a couple of days, go back to the guide and take a look at all the other items.
Obviously these are generalizations. You have to judge your own situation. But I've been getting good feedback from clients and friends, and there have been few stories online about upgrade glitches since the big November update to Windows 10. If you haven't upgraded yet, maybe it's time. Good luck! Let me know how it goes.